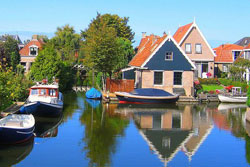 Friesland, or Fryslan, is the Netherlands' northernmost province. It only has 4% of the country's population, but almost a fifth of its windmills. The Frisian Islands, lying like a dotted line north of the mainland in the Wadden Sea, are also part of the province.

Friesland has its own language—West Frisian, closely related to the East Frisian and North Frisian dialects spoken in parts of Germany. Friesland itself was a part of Germany until the late 17th century.

In winter, Friesland's freshwater canals tend to freeze over. Sometimes the Frieslanders hold a week-long Elfstedentocht, an ice skating tour that anyone can sign up for, conducted over 200 km of frozen canals, lakes and rivers in Friesland's 11 cities. These cities, which include the province's capital, Leeuwarden, are very much like other Dutch urban centres: neatly designed, with tree-lined canals, spacious parks and commercial districts with shopping centres, restaurants, theatres and bars.
A major difference between Friesland's cities and other cities in the Netherlands, though, is the small number of residents in each city. Leeuwarden is the most heavily populated, with 92,000 inhabitants, but only three other Friesland cities have populations above 10,000, and some of the rest only have a few hundred residents.
Friesland's economy is derived from agriculture and livestock. Friesian cows are among the world's most common breeds of cattle, and Friesian horses are popular draft horses throughout Europe and the United States.
---