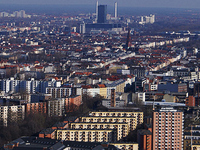 Friedrichshain-Kreuzberg (pop: 260,000) covers around 20 square kilometres. The Spree River marks its two main divisions: Friedrichshain (once in East Berlin) and Kreuzberg (once in West Berlin).

These two areas are very different in character.

Friedrichshain is now trendy, frequented by young people - and has good nightlife. Plenty of new construction is planned, including high-class office buildings, the vast O2 Entertainment Arena, and various upscale loft apartments. Many old apartment buildings are being renovated and rented mostly to young couples, singles, and students. Many young executives choose to move here, and the proportion of wealthy residents is steadily rising.
Centrally located, easily accessible, and becoming rather fashionable, many media, technology, design, and marketing companies have relocated their offices here, among them MTV Europe.
Bergmann Kiez and Wrangel Kiez, in particular, have become upscale, and promise to be among the city's next affluent places.
The oldest building project in Friedrichshain is along Karl Marx Allee, which is surrounded by retail and leisure facilities in traffic-free areas. The buildings here that date back to the 1950s and are designated for conservation.
At the other end of the scale is the modern Oberbaum-City, an industrial area that has provided thousands of jobs to residents. In one of the largest redevelopment projects in recent times, it now forms part of the Spree Media Quarter, named after the river which forms one of its boundaries. The new quarter has arty hotels, clubs, and restaurants, and is a very trendy place. Its train station has been recently revamped, and is conveniently serves by all 3 Berlin airports.
Kreuzberg is quite different. A third of its population are immigrants, especially Turks. Kreutzberg is dominated by buildings from the turn of the 20th century, mostly small apartments, designed for the working class.
When Berlin was divided into East and West, Kreuzberg was a neighbourhood of new immigrants. Despite the immigrant influx it is on the road to gentrification. The downside of its multicultural population, is that there are a few troublesome gangs here.
Kreutzberg offers an exciting nightlife, and lots of shopping options. Many bars, clubs and cafes can be found in the areas of Simon-Dach-Strase and Boxhagener Platz. The streets of Kreuzberg Oranienstrasse and Bergmannstrasse are known for their shops, cafes and restaurants.
Bergmannstrasse is especially known for its alternative character, along with Karl-Marx-Allee and Rigaer Strasse.
Simon-Dach-Strasse has more typical German bars and clubs, while Ostkreuz has fairly quiet bars. This district is also known for its hip thrift shoppers.
Volkspark Friedrichshain is a well-maintained and beautifully landscaped park, and Gorlitzer Park on Wiener Street are popular with Turkish families, who often have barbecues in the summer, as well as students taking a break.
Some interesting museums highlight the area's history.
The famous Checkpoint Charlie Museum, one of Berlin's most visited museums, tells the story of life in the days of the Berlin Wall.
The Jewish Museum Berlin is a famous landmark, with an unusual design by American architect Daniel Libeskind, housing artifacts related Berlin's jews in the late 19th to early 20th centuries.
The East Side Gallery in Friedrichshain, the only remaining stretch of the Berlin Wall, features over a hundred graffiti-paintings by artists from all over the world, a reminder of Berlin's past and a vibrant representation of its present.
The area is well-connected to the rest of Berlin by railway and underground. Ostbahnhof, once the central station of East Berlin, is also one of Berlin's main railway hubs.
---