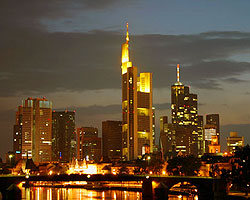 A liberal and democratic city, a city of contrasts, a skyline like Manhattan and medieval buildings lovingly restored after severe Allied bombing during the second world war, Frankfurt has become a global village, with about a third of its population consisting of foreign residents.

Frankfurt is one of Europe's biggest financial centres. The stock Exchange or Frankfurt Boerse began trading in 1585 and has acquired its current home since 1815 in a large monumental domed Neo-Renaissance building. Frankfurt has the biggest number of high rise in any German city and is often called "Mainhattan" or "Bankfurt".
Frankfurt is a transportation hub and is famous for its international trade fairs, of which the yearly International Book Fair is one (Frankfurt's first book fair dates back to 1480).
Since 855, Frankfurt has been the city of where future kings were elected. From 1562 onwards, German emperors were crowned in Frankfurt's gothic cathedral, St Bartholomew. After the Reformation, in 1555, Frankfurt became a "Protestant Free City". Frankfurt was the birthplace of the great German writer, Johann Wolfgang von Goethe. Frankfurt's university opened in 1914, calling itself after Goethe.
Frankfurt's hope to be the Federal Republic's capital after the second world war was dashed, when Bonn was chosen instead. However, Frankfurt remains the uncontested financial capital of Germany.
This cosmopolitan city offers a great variety of cultural attractions. The varied foreign influences can be seen in its arts, architecture, and cuisine. At the same time, there are well-preserved 19th century streets and parks dotting the city. Traditional cider pubs can still be found, not far from modern skyscrapers.
A row of 13 museums by the Main waterway houses all types of artworks, from classical paintings to contemporary media. Frankfurt also boasts a world-class opera house, and a large number of theatres.
This large and varied city has 16 districts which have further subdivisions.
---