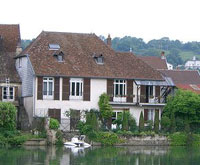 Franche-Comté, a largely unheralded region between Alsace and Burgundy, has a beautiful landscape, rich in forests, lakes, rivers, and mountains. The climate is mild and pleasant in the valleys of the region, but the mountainous areas have Alpine weather, with a lot of snow.
Arbois, a commune of the Franche-Comte, is known for its high-quality Jura wines. Ornans, Dole, Pontarlier, Salins-les-Bains and Lods are attractive towns worth visiting.
Besançon, the regional capital, is a city of great history and beauty. Its historical "la Boucle" district showcases many examples of fine stonework architecture, including the awe-inspiring Citadelle, the Palais Granvelle, and the medieval St. Jean Cathedral with its magnificent astronomical clock.
Besançon is also notable for being the birthplace of Victor Hugo, as well as film pioneers the Lumière brothers.
Known as the "watch industry capital" of France, Besançon has developed its watchmmaking heritage into a reputation as a leading centre for technology, in a variety of fields such as microtechnology and telecommunications. The city hosts a biannual microtechnology trade fair called Micronora.
Besançon also hosts several high-profile music festivals, most notably the Besançon Franche-Comté Music Festival celebrating classical music, and including the Musiques de Rues Festival, Jazz en Franche-Comté Festival, Herbe en Zik Festival, and Franch Country Festival.
---