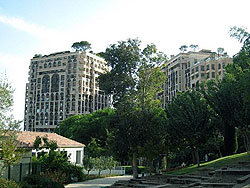 Fontvieille was built on land reclaimed from the Mediterranean Sea. The quarter, which owes its name to an ancient spring, has always had an industrial and economical history. In 1905, a brewery was built here, followed by a flour mill and then a chocolate plant. Today it is a business and commercial district as well as a residential neighbourhood with upscale serviced apartment buildings. There is a modern marina in the middle, with the Fontvieille Shopping Centre, the Carrefour Supermarket, and restaurants and shops on the waterfront.

Fontvieille's crowd-drawing sites include the Stade Louis II, the home of the Monaco Football Club, and the Museum of Antique Automobiles, which houses the private classic car collection of the late Prince Rainier III.
The quarter's park is a lush expanse of shrubs and plants from all around the world. It has a sparkling freshwater pond, the home of ducks and swans. In the Princess Grace Rose Garden by the sea, there is a labyrinth of intersecting walkways around 4,000 rose trees of over 150 varieties.
---