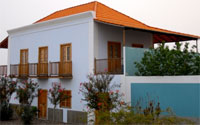 Comprising Fogo island in Sotavento is one large and very active volcano, making it the hottest island in Cape Verde, and very fertile in several areas. Its best attraction is actually its crater, where grapes are grown. The outer slopes are cultivated with coffee. Wine and coffee produced in Fogo are a must-try.

Striking rock formations and black sand beaches are two great aspects to enjoy on Fogo.  However, swimming is usually not a good idea unless the sea is really calm. But there is one great swim spot: Ponte Salina, a beautiful cove with fascinating rocks.
Another interesting place to see is the Chã das Caldeiras Natural Park, which covers a beautiful landscape of endemic plants. It is a great spot to go horseback riding.
Fogo's capital is São Filipe, built on a cliff and adorned with Portuguese colonial architecture. Traditional houses called sobrados are well-preserved here and add to the capital's uniqueness and charm.
Emigration to the United States is very common among Fogo locals. Those who stay engage in the island's main activities such as farming and cattle breeding.
---