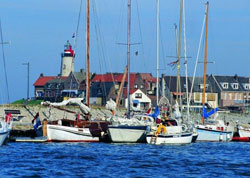 Flevoland is the Netherlands' youngest province. It was formed in 1986 and has a population of around 360,000.

In the early 20th century, after a massive flood, it was decided that the North Sea inlet called the Zuiderzee, which extended about 100 kilometres inland, should be cut off from the sea by a dam. When this was done, the former inlet was renamed the IJsselmeer (Lake IJssel), and parts of it were drained and the land reclaimed and enclosed by dikes. These polders, or reclaimed land areas, are now used for farming and housing. (A very interesting result of the draining of the IJsselmeer was the discovery of hundreds of wreck sites on the sea floor—from centuries-old ships to planes downed during World War II.)
Flevoland was one of the areas created by the damming of the Zuiderzee. Eventually, a narrow body of water was allowed to go around it, turning it into an artificial island. In 1986 its six municipalities—Urk, Noordoostpolder, Dronten, Zeewolde, Almere and the capital, Lelystad—voted to form a single province.
The Holland-Flevoland Business Zone has attracted national and multinational companies, thanks to European Union incentives. Flevoland is only half an hour away from Amsterdam, Rotterdam and the Schiphol airport. It has its own airport at Lelystad, which accepts private and commercial (but not passenger airline) flights. The Lelystad airport has a large aerospace museum known as the Aviodrome.
When the country's major cities experienced overpopulation, Flevoland became an alternative residential area. Substantial parts of East Flevoland and later South Flevoland were set aside for residential development. Today, Flevoland's neighbourhoods are typically Dutch—a mix of social housing, owner-occupied homes, and an abundance of green spaces, and well-maintained roads.
---