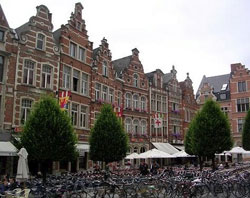 The Brussels Capital Region is completely inside the province of Flemish Brabant, but is not part of it.

Flemish Brabant is the youngest Belgian province, having only been created in 1995. It has two arrondissementen: Halle-Vilvoorde, which contains the BCR and is mostly residential, and Leuven. Flemish is the language commonly spoken here, though the BCR is officially bilingual. Flemish Brabant's other areas are the Groene Gordel and Het Hageland.

The Groene Gordel (Green Belt) surrounds Brussels. Its name is apt: it is full of large parks, nature reserves, forests, gardens and the rural countryside. Hiking and biking trails can be found in the Soignes region of hillsides, woods and streams. To the west is the farming region of the Pajottenland, with its fields, pastures and rolling hills. And one of the most important attractions in the Groene Gordel is the National Botanic Garden in Meise, right on the border of the City of Brussels.
In Flemish Brabant's northeast is the beautiful, hilly region of Het Hageland. Its 6 rural towns are connected to each other by bicycle trails that crisscross from one town to another. Het Hageland is a great place for walkers and nature lovers. The university town of Leuven is here.
Leuven
The capital of Flemish Brabant is the small but hopping college town of Leuven. Thousands of students from all over Belgium and from other countries are here to attend the Catholic University of Leuven, the oldest and largest university in the Low Countries, and the oldest existing Catholic university in the world.
There always seems to be one festival or another happening here, celebrating music, cinema, theatre, cultural traditions or food.
The students might also enjoy the fact that the world's largest brewery, Anheuser-Busch InBev, has its headquarters here. The company is one of the world's five largest consumer goods companies and is Leuven's largest employer. The world-famous Stella Artois beer has been brewed here for over 200 years.
The Great Market Square is in the centre of Leuven. The 15th-century Town Hall stands among the rest of the houses that border the square. On another side of the square looms the stately St. Peter's Church, built in the Late Gothic style.
Leuven has many historic and well-maintained public green spaces. The Kruidtuin Herb Garden is the oldest botanical garden in Belgium. Not far away is the Sint-Donatuspark, where portions of a 12th century city wall and its sandstone towers can be seen among the trees. The rest of the park was built on the grounds of an old college. Another favourite leisure area is the Provincial Recreation Park at Kessel-Lo, a family park good for children, with boating and mini-golf.
---