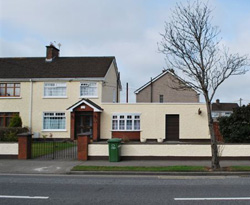 The modern coastal suburb of Finglas is mainly residential, with an industrial area in the north and a commercial centre with restaurants, pubs, shops, and banks. It is also close to the Dublin International Airport.

The name Finglas is derived from the Irish for "clear stream", referring to a narrow rivulet that runs through the district and joins the River Tolka. Legend has it that the land was consecrated by St Patrick, who predicted that a mighty town would one day stand here. Finglas once had a Celtic monastery.
In modern times the area grew rather rundown and became a hotbed for violent crime. In recent years, the crime rate has gone down and plenty of new construction has been going on, with old buildings being torn down and replaced by new residential buildings and commercial establishments.
---