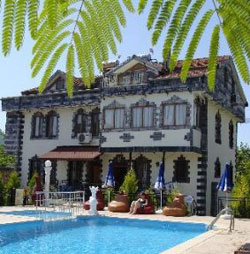 Along with Eminönü, the Fatih district of Istanbul comprises the old Istanbul peninsula and even today many natives still refer to it as the "real Istanbul". It is the city's largest district and one of Turkey's prime tourism sites. Important historical sites such as the Byzantine walls and the Fatih Mosque still stand proudly here.

Though it cannot be denied that the district was affected by the Anatolian migration, it has successfully preserved its high commercial and residential status. At present, the majority of Fatih's residents belong to the middle class and most of its areas—Aksaray, Fındıkzade, Çapa, and Vatan Caddesi—are quite cosmopolitan. Interestingly, it is also home to the Çarşamba community, which practices a very conservative Islamic faith. In the streets of Fatih, bearded men in baggy shalwar and women in long black dresses are very common.
Aksaray
The neighbourhood of Aksaray is in Istanbul's Fatih district. It is a convenient place for travellers as major roads pass through it, it has good transport links to other parts of Istanbul, and it has many hotels to choose from, from the characterless to the cosy and charming. Aksaray is also quite notorious as a haven for prostitution and illegal sex trafficking.
---