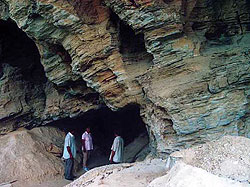 Fangshan is 38 kilometres away from Beijing's busy downtown, east of the Taihang Mountains. Fangshan has beautiful scenery, with many lakes and rivers. There are natural limestone caves with underwater rivers running through them, and ferry crossings at Shidu that showcase jaw-dropping terrain; Fangshan is a nature lover's dream.

Fangshan is also the home of Beijing's oldest resident: the world-famous Peking Man was discovered here, in Dragon Bone Hill.

Those looking for more history will enjoy exploring the famous Buddhist shrine of Yunju Temple. Spanning seven hectares, this monastery is known for its intricate carvings of Buddhist scriptures on stone.
Fangshan also offers a little something for the adventurous: it is the first place in China to offer a bungee-jumping facility.
The area is connected to other municipalities by 24 railway stations and 4 branch railways. The Jingshi Expressway also runs through it.
---