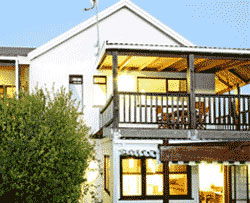 False Bay, the largest bay in South Africa and one of the largest in the world, came by its name when seafarers returning from the east would mistake Cape Hangklip (the cliffs that loom over the bay) for Cape Point. False Bay's 33-kilometre length at its widest point continues to challenge marathon swimmers, who have tried to cross it, mostly unsuccessfully.

Many prefer this coastline, which opens onto the Indian Ocean, for its smaller crowds and waters that are warmer than those in the adjoining beaches, making the beach experience more pleasant and enjoyable. The Bay stretches from the Helderberg Beaches in the east all the way to Cape Point in the west. The east and west shores are pretty rocky, and the strong waves surging and dashing on the rocks make them a dangerous place for swimmers, but the north shore is a relatively tranquil white sand beach, and the waters are warm and blue.
The bay is also popular with anglers, as a local oily, narrow fish called snoek is plentiful in these waters. Amateurs are well warned not to go fishing, though, as large 'killer waves' created by the bay's shape can suddenly rise and sweep even experienced locals from the designated fishing spots on the rocks.
This more laid-back and less trendy coastline is dotted with white sandy beaches, seaside villages and hamlets, quaint shops, hotels, restaurants, pubs, and scenic picnic spots. There are also a number of lookout spots during the whale season. Some unique landmarks include the surfers' beach at Muizenberg, the fishing village Kalk Bay, with its vibrant night life, and Simon's Town, a historical naval village where old World War II bunkers remain along the shores of False Bay.
Simon's Town
The small coastal village of Simon's Town was named after Simon van der Stel, the 17th century Dutch East India Company commander who was both the first governor of the Cape of Good Hope and the first part-Indian person to hold such a position in the country. The governor had thought the place would make a good winter harbor.
Simon's Town has a military heritage going back at least two centuries. The South Atlantic Squadron of Britain's Royal Navy was stationed here in the early 19th century. A drydock was built about a hundred years later, and during World War II hundreds of ships came here to be repaired. Along the shore of False Bay, bunkers were built to house cannons that faced out to sea. The harbour and the dockyard are closed to the public, because they are in use by the South African Navy.
The area's Muslim heritage cannot be overlooked. There is a 17th century Muslim grave here that is said to have an 'aura' about it, where eerie occurrences have been reported. Those less into supernatural matters might want to opt for the Heritage Museum instead, with its store of Muslim artefacts, or the nearby mosque.
Simon's Town is a popular tourist destination. There are several hostels, inns and restaurants, quite a few museums and art galleries, and a public library. The railway line from Cape Town's Central Business District ends here. A road here leads to the Cape Point Nature Reserve that covers the Cape Peninsula's tip.
Just south of Simon's Town is Boulders Beach, which has quite unusual residents: a colony of African penguins that moved there in 1985. It is one of only three African penguin colonies in South Africa. An even more famous and beloved animal resident of Simon's Town was Just Nuisance, a large and friendly Great Dane who loved to follow the sailors who were stationed in the town during World War II. When he died, he was buried with full military honours and a statue was erected in his honour in the middle of Jubilee Square.
Because it faces the north, Simon's Town is protected from the northwest winds that buffet the Cape Peninsula in the winter months, so it is a popular destination for South Africans and tourists trying to escape the chill during this season.
Muizenberg
Once a cattle farm and then a wealthy military post, Muizenberg in False Bay, Cape Peninsula is now a seaside residential suburb.
Muizenberg has several historical buildings—elegant Victorian and Edwardian mansions along the beach promenade, and cottages belonging to prominent figures that have been turned into museums exhibiting their owners' memorabilia.
Muizenberg's long stretch of white sand and turquoise waters is one of its major draws. Water lovers come here to go body boarding, surfing and windsurfing. Though there is a shark watch service, swimmers must be vigilant, as white sharks visit False Bay.
An alternative recreation is rock-climbing on Muizenberg's steep cliffs, though certain parts where birds nest are off-limits. Better still, one can visit Zandvlei, an important wetland and bird estuary along False Bay coast, where one can set up picnics, ride canoes, or bird-watch.
Fish Hoek
Fish Hoek lies in a picturesque valley on the Cape Peninsula. It is now a suburb of Cape Town, but has long been a favourite of holidaymakers. Its location in the False Bay area makes it a popular place to sunbathe, sail, and surf, alongside traditional activities of fishing and angling. Its main street of shops and market stalls can also get quite busy.
The seaside village developed from a small enclave of holiday cottages in the 1900s to a more permanent residence as train service improved. It was a municipality of Southern Peninsula before it became a Cape Town suburb.
Fish Hoek continues to lure tourists, but these days is more known as a community of retirees.
Glencairn
The tranquillity, beautiful scenery, and well-priced properties of the mountain village of Glencairn have lured city dwellers to move here, and visitors to vacation here.
Holiday and residential homes and vacant lands are sold in Glencairn Heights, which overlooks False Bay and offers dramatic views. Welcome Glen is a new residential area also offering homes and vacant lands on sloping hills. The estate was once a dairy farm, and remnants of the old farmhouse can be found amidst the houses.
Old Glencairn is closest to the sea, and has a restaurant, pub, dance club, hotel, and a recreation centre for children.
Glencairn is actually a conservation area protecting indigenous plant species and a number of bird species. Boulders Beach on False Bay is a great place to meet Jackass African penguins or watch whales in the spring.
Kalk Bay
The fishing village of Kalk Bay on the False Bay coast is a suburb of Cape Town. It has a holiday feel, with tourists and residents strolling along the harbour and checking out quirky shops as surfers take advantage of the winds and swells on Kalk Bay Reef, a famous surf spot.
The seaside hamlet is also quite bohemian, with its restaurants, antique shops, and theatre frequented by local and visiting artists.
Another famous spot in Kalk Bay is above the village, where unique sandstone caves can be found.
Misty Cliffs
Misty Cliffs lies on the northern side of Scarborough in Cape Town. Like its neighbour, it is a conservation village that enjoys natural landscape and wonderful sea views.
The seaside village consists of 75 plots, divided into beachfront and mountainside properties. The former have higher price tags than the latter. The village has a well-established design team that will provide construction and alteration of existing homes.
Misty Cliffs is ideal for short, relaxing holidays as well as long-term living, as it has schools and basic facilities. The pubs and restaurants of Noordhoek and Kommetjie are also only a few minutes' drive away.
---