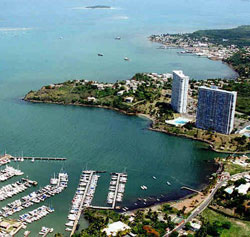 Known as "La Metropolis del Sol Naciente" ("The Metropolis that Guards the Sun"), Fajardo was once known as one of the most scenic spots in Puerto Rico.

Boating is a popular activity here because of its calm, clear beaches. Seven Seas Beach, in particular, is a great place for swimming, snorkelling, scuba diving and sailing. Every April, Fajardo holds the Kelly Cup Sailboat Regatta.

Fajardo is home to the 316-acre Las Cabezas de San Juan, a nature preserve which boasts of mangrove forests and a lighthouse that has remained operational since 1882. The main attraction of this nature preserve is its bioluminescent lagoon.
Another popular natural preserve is Reserva Natural La Cordillera. Encompassing the cays of Icacos, Diablo, Palominos and Palominitos, this site is excellent for underwater activities, like scuba diving and snorkelling, and beach combing.
---