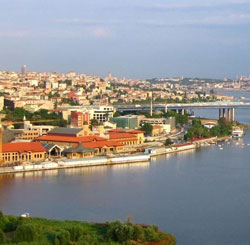 In its early years, Istanbul's Eyüp district was an important spiritual site. Set outside the walls of the ancient city of Constantinople, it had a monastery and a few Christian churches during the Byzantine period. It also has one of the city's major Muslim shrines and a number of cemeteries.

In the 18th century, however, Eyüp gradually lost its spiritual feel as it became more populated. People from the Balkans and the Caucasus migrated to the area. As the industrial zone of Golden Horn expanded, many of the wealthy residents decided to move. Some of Eyüp's sophisticated homes were then reconstructed into factories and commercial areas like pubs and gambling houses.
In the last few decades, many of the workshops and bars here have closed. As more conservative Muslims move into the area, Eyüp is regaining its tranquil suburban character. Tourists flock to visit the old mosques and cemeteries, then have something to eat and drink in Eyüp's many bistros and cafés. The most well-known of these is the Pierre Loti Café, set on top of a hill, with tables and chairs under spreading trees and a gorgeous view of the Bosphorus.
Alibeykoy
Alibeyköy was once an agricultural area, with fertile fields and valleys. Today, it is a modest residential neighbourhood for middle-income families, with small stores and retail shops. There are no large shopping centres here. Some old houses can still be found in Alibeyköy, but these are quickly being replaced by newer buildings.
Alibeyköy is known to experience the worst floods in Istanbul when it rains heavily in the city. Improvements to its riverbed has eased the problem somewhat, but flooding still occurs and clogged sewage drains are partly to blame for it.
Balat
The neighbourhood of Balat in the district of Eyüp faces the historic Bosphorus estuary called the Golden Horn. It was once home to a large Jewish population, and many of their descendants still reside here. One of the oldest synagogues in Istanbul, the Ahrida Synagogue, was built here by Jewish immigrants from Macedonia over 500 years ago.
Another interesting place of worship in Balat is the cast-iron Church of St Stephen of the Bulgars, constructed in Vienna in 1871. Its parts were put on 100 barges and floated down the Danube to Istanbul. It is still used by the Bulgarian Orthodox of the city.
---