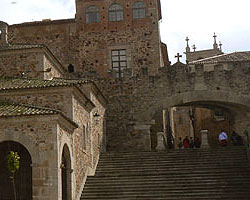 Little known to tourists, Extremadura has an unspoilt landscape consisting of glorious wilderness, mountains, farmlands, and historic villages. It's a fine place for bird lovers, for Extremadura has a large stork population; you fill find storks nesting on top of structures throughout the region. Rare species thrive in Extremadura's nature preserves, such as Monfrague National Park. Excellent traditional culinary products, like Spanish ham and sheep's milk cheese, are made here.

The towns and cities of Extremadura have many well-preserved historic attractions. Merida has some amazing Roman remains, including a long granite bridge. In summer, plays are still staged at its 2,000-year-old theater. Badajoz is also rich in historic sites and museums. In Trujillo, there is a Moorish castle. The walled city of Caceres has an excellently preserved medieval historic quarter. There are palaces here as well as in Plascencia.
Extremadura's climate is Mediterranean, except in the more Continental north and the west, which gets Atlantic breezes.
Extremadura has two provinces: Caceres in the north and Badajoz in the south. Its capital city is Merida but Badajoz has the largest population.
---