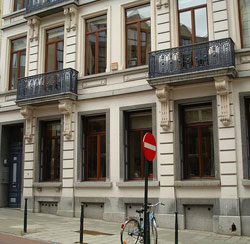 Brussels is the unofficial capital of the European Union, so many EU institutions are located here, in the European Quarter of the City of Brussels: the Council of Ministers, the European Commission, and the unofficial European Parliament headquarters. The European Quarter is the informal name given to this triangular area, which is bordered on all sides by parks—the Parc de Bruxelles (Warandepark) in the west, Parc Cinquantenaire (Jubelpark) in the east, and Parc Léopold in the south.

The Parc de Bruxelles is near the royal palace, the American embassy, and the Belgian parliament. Its pathways were laid out with Masonic symbolism in mind.

The Jubelpark is dominated by a horseshoe-shaped arcade of buildings at one end. In the middle of the horseshoe is the park's Triumphal Arch. The horseshoe's northern wing houses the Royal Military Museum, while the southern wing houses the Cinquantenaire Museum. In one corner of the Jubelpark is the Great Mosque of Brussels.
The Leopold Park is the smallest of the three parks bordering the European Quarter, and is adjacent to the Paul-Henri Spaak building, one of the five buildings that house the European Parliament. The park's most distinctive feature is a pond fed by the Maalbeek, a stream surrounded by rare trees that were once part of a botanical garden. It is the watering hole of the many species of birds.
---