The country's colonial history begins in Esmeraldas. Spanish conquistadors first set foot here, on Ecuador's glorious coast, in 1526. They were amazed to find emerald-studded natives waiting for them along the shore, and named the region after the precious stones.

The region may not be producing as much of the gems as it used to, but the name still applies. Like almost all of Ecuador's provinces, the coastal Esmeraldas has lush tropical forests, small, verdant hills, and scattered patches of thick vegetation throughout its territory.

This warm and humid province has a population of 360,000, a largely Afro-Ecuadorian community whose ancestors settled in Esmeraldas when slave ships were wrecked here in the 1600s. Esmeraldas may be Ecuador's most ethnically diverse province, owing to the people from foreign lands who have been settling in the area for the past 100 years.
Esmeraldas is also a richly biodiverse region. The Cotacachi-Cayapas Ecological Reserve and the smaller Bilsa Biological Reserve are two protected areas of Ecuador's endangered coastal rainforest that shelter hundreds of plant and animal species.
The port towns of the Ecuadorian coast bring in major business revenues and tourism money. Their beautiful beaches and oil ports are vital to the nation's economy.
While the installation of the trans-Ecuadorian oil pipeline brought ample revenue to the country, it also brought the environmental filth that is the corollary of all petroleum-related businesses. Esmeraldas' oil ports and their environs are noisy, polluted areas.
The province also derives its livelihood from fishing, shipping and, of course, water tourism—beach hopping, swimming, surfing, skiing, inland kayaking, and fishing. Esmeraldas is actually more known as a beach lover's retreat.
Malaria is present in the Esmeraldas. Tourists going there are well-advised to take proper precautions so that they will not be at risk during their stay.
The waters in this region have a powerful undertow—bathers have to keep this in mind at all times. Lives have been lost due to underestimating the ocean's pull.
Esmeraldas
The capital city of Esmeraldas has one of the largest and busiest seaports in Ecuador. It is the chief trade centre in the province and an exporter of wood, cattle, bananas, cacao, and rubber.
The city is the province's economic centre, but there's little else to recommend it. Esmeraldas' badly kept streets and concrete buildings have long succumbed to neglect. Most of the city's districts are characterized by squalor, save for one swanky area that is perhaps the only worthwhile stopover point in Esmeraldas. The upscale neighbourhood of Las Palmas is where the city's best and priciest bars, restaurants, and hotels can be found. Its beach, however, is rather dirty and polluted.
The main gastronomic fare in Esmeraldas is fresh seafood cooked using different techniques and dressed in various tasty, complementing sauces.
Muisne
Muisne is a small island that marks the territorial boundaries of the Esmeraldas and Manabí provinces. It is so remote and so pristine that many locals go about barefoot.
While Muisne's Mediterranean-style condos and hotels might be basic and a little on the cheap side, the island's attractions make up for it: breathtaking views of the sunset, quiet and attractive beaches, and scrumptious seafood dishes cooked in flavourful coconut sauce.
Atacames
Atacames is a small, charming, and rural resort town that has the liveliest party scene in Esmeraldas. Hotels, discos, and restaurants line the beachfront. Bars serve refreshing tropical fruit drinks to customers in need of a drink after playing beach volleyball or dancing to the lively beat of salsa and reggae. The cost of fun, however, is not cheap in Atacames, so be prepared to blow some serious bucks while vacationing here.
Atacames' beaches can be dangerous after dark, so one must practice prudence and stay in well-lit and peopled areas.
Same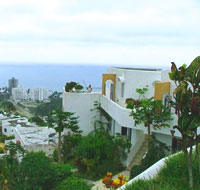 The most exclusive beach town in Esmeraldas is Same, a small, tranquil resort with a palm-lined beach within the raucous canton of Atacames. Same has the privacy and seclusion that the majority of Atacames' beaches lack.

The price of this privacy and seclusion is high—prices here area more inflated than in any other region in Atacames. Luxurious, Mediterranean-inspired condos and choice hotels are the standard lodgings in this subdued but lovely resort. Swimming pools, tennis courts, gourmet restaurants, and a golf course are some of the first-class amenities that Same can provide its elite visitors.
Sua
Sua is a good choice for those who desire Same's mellowness and seclusion but are on a tighter budget. This small fishing village has a lovely beach; during midday, pelicans and frigate birds adorn the cloudless blue sky, flying after the boats.
Taking solitary night walks down the beach might be tempting, but the tourist should never switch off his common sense and forget the universal rule of thumb of avoiding dark, secluded places, even in a tranquil place such as this.
San Lorenzo
The hot and humid town of San Lorenzo is Esmeralda's largest canton in the north. Its closeness to the rainforest makes it an ideal place to stay for those who plan to do walking trips to the Amazon. It offers basic accommodations, but also a lot of dining options, as the town has many good mom-and-pop restaurants. The town has basic health care facilities. Mosquitoes are on a bloodsucking spree during the rainy season, so be sure to stock up on insect repellents.
One cannot help but admire the harmonious coexistence and cultural interchange between the indigenous Amerindian community and the Afro-Ecuadorians of San Lorenzo's nearby Cayapas region. Both groups have been more or less hermetically sealed from extraneous influences and have kept their distinct roots strong and alive in their traditional songs and dances. The Chachi Indians of Zapallo Grande have retained their native flair in the visual arts, as mirrored in the area's unique indigenous textiles and architecture.
San Lorenzo has impressive natural reserves, such as the Cotacachi-Cayapas Ecological Reserve, which protects part of Ecuador's disappearing coastal rainforest.
---