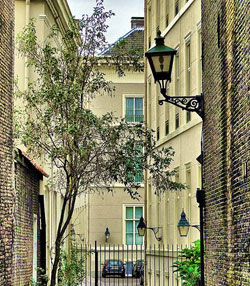 Escamp has some of the oldest inhabited areas of The Hague, but the neighbourhood has seen a lot of housing construction in recent years. Where before there was nothing but crowded, too-similar grey housing blocks, modern houses, smaller homes, and new apartment buildings have been built.

Escamp is divided into seven smaller districts, separated from each other by large thoroughfares and green tracts.

Morgenstond and Bouwlust were built after the war. Bordering them are Moerwijk in the east and Wateringse Veld, which is a vinex location (a large new neighbourhood built on the outskirts of a city), in the south.
Leyenburg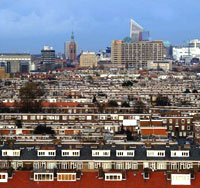 Leyenburg is a quiet neighbourhood of small houses and apartment buildings. The Leyenburg Hospital is perhaps the one institution of note in the neighbourhood. Next to Leyenburg is Zuiderpark, a 100-hectare green sprawl with an indoor swimming pool, a large playing field, a track area, a petting zoo, a miniature train, a playground and boating facilities. The largest free music festival in Europe, the Parkpop, is held here. It also gained national renown for its football stadium, the ADO Den Haag. Another green recreational area is the Uithof, which has tennis courts, a skate area with ski lift and a bicycle track.
Rustenburg/Oostbroek
Rustenburg/Oostbroek once belonged to the district of Loosduinen. It has a population of 18,000, roughly half of foreign origin. Housing here consists mainly of small apartments.
---