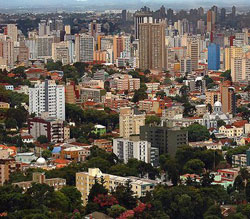 Entre Ríos lies amid rivers and streams, and has a flat land area dotted with low hills some 100 metres in height. The hills are divided by the Gualeguay River into two systems: the western one known as the Cuchilla de Montiel and the eastern range (Cuchilla Grande).

The province's capital, Paraná, is situated on the river of the same name and has a healthy agricultural industry. It produces more than half of the country's rice crops, along with soybeans, maize, wheat and citrus, which are exported to Europe.
Paraná City
Paraná is the capital city of Entre Ríos. It sits on the banks of the Paraná River, opposite Santa Fe in Santa Fe Province. The two cities are connected by the Hernandarias Subfluvial Tunnel.
Paraná has a commercial port and its main industries are cement, ceramics and furniture manufacturing.
Paraná—whose name means "father of the waters"—is an ideal place for enjoying water activities like windsurfing or sport fishing. Even Paraná's main green area, the riverside Urquiza Park, is a showcase of the waters, having waterfalls, fountains and springs. Nearby villages are better for land-based activities like trekking and horseback riding.
The city's buildings are a typical mix of colonial and modern architecture. Its churches, theatres and government buildings are typically of the former kind.
---