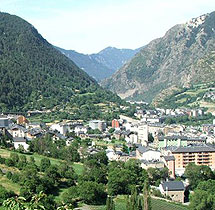 This parróquia is composed of the capital, Encamp, the village of Pas de la Casa, and Cortals Valley.

Located only seven kilometres away from Andorra la Vella, Encamp is close to the big ski resorts (all main downhill slopes can be reached here, and there are coach services to take you there). The area is commercialized, and has a good range of hotels, restaurants, a few shops, but it is a quieter area than its neighbours, the capital or Pas de la Casa.

Sights in Encamp include the vintage cars in the National Automobile Museum, the Romanesque frescoes of the medieval church of Sant Romà in the village of Les Bons, and the still, deep blue surface of Engolasters Lake—according to legend, its waters sprang from the ground to wash away the unkindness of a local woman who refused to give a beggar a piece of bread.
Pas de la Casa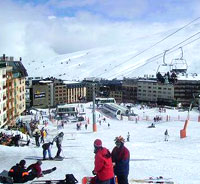 Pas de la Casa is the clubbing mecca of the Pyrenees. The village has an almost electric energy, and young people from France and Spain fill the streets during the ski season. Hip bars and dance clubs abound. Here you can enjoy skiing across the Pyrenees or go shopping at some of the best shopping centres in Andorra during the day, and then revel in the clubs and bars at night, until morning comes and you can do it all over again.

There are a number of apartment buildings and hotels in Pas de la Casa, many of them near the slopes.
Skiing is not the only activity active people can enjoy in this village. In the rich, open spaces of Cortals Valley, you can go rock climbing, mountain scaling, and cliff-hanging.
---