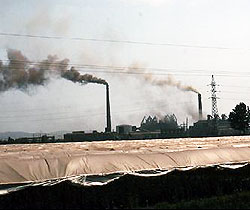 Elbasan County has a border to the east with Macedonia. It is composed of the districts of Elbasan, Gramsh, Librazhd, and Peqin.

Elbasan Country's capital, the city of Elbasan, is one of Albania's biggest and most historic cities (pop: 100,000). It has been occupied over the centuries by Serbs, Macedonians, Bulgarians, Austrians, and Italians. Islam retained a strong hold over the city even after the Ottoman occupation, and up until the Second World War.

Once, Elbasan's narrow cobblestone streets mingled beautiful mosques and Islamic buildings with medieval structures, and there was a large bazaar where Turkish was widely heard. At the time, there was a Christian settlement within the castle walls and a Vlach district just outside the city. Today, there is an Orthodox Church, and an old monastery lies on the outskirts of Elbasan where the medieval Saint Jovan Vladimir is buried.
There was much damage during World War 11, which was followed by an intensive programme of industrial development under Communism that boosted the city's population to around 75,000 inhabitants. The process culminated in the construction of the huge 'Steel of the Party' metallurgical complex outside the city, in the valley of the Shkumbini, built with Chinese assistance in 1960s and 1970s. It was called "The Second National Liberation of Albania" by Albania's then-dictator Enver Hoxha. Its chimneys, the tallest in the Balkans, always belched smoke and emitted a stream of dangerous pollutants - which soon meant that much of the hitherto prosperous agricultural river valley was useless for crops.
Elbasan now features in a list of "The Worst Cities of the World to Live in".
---