This tropical, humid region of Ecuador known as "The Province of Gold" due to its gold production is the southernmost of the country's coastal provinces. El Oro also thrives on an export economy of bananas, shrimps, cacao, and coffee. Puyango, the country's biggest petrified forest, can be found here.
Machala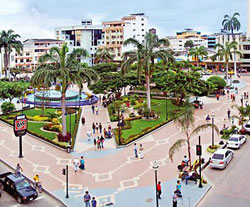 The small city of Machala is the capital of El Oro. The city is regarded as one of the world's biggest exporters of bananas and shrimp.

El Oro's capital is en route to the popular town of Huaquillas, which is right on the Peruvian border. Machala also has a few good cinemas and discos, and most of its hotels are located the centre. Macala's commercial port, Puerto Bolívar, is popular for its oceanfront restaurants.
Zaruma
Zaruma is a small hilltop town known for its gold mining. But its old architecture is its best feature. Zaruma is regarded by many as one of Ecuador's most beautiful cities. The well-preserved, carved wooden houses that line its steep, narrow streets have won it the admiration of art connoisseurs, photographers, painters, and other visual artists.
Piñas
Piñas is a sleepy little town known for the beautiful wild orchids in its cloud forest and for its coffee. It has a population of 35,000, and a warm, pleasant climate most days of the year. Like Zaruma, Piñas is one of Ecuador's most beautiful ancient towns.
---