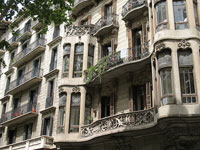 Eixample (prime area) is a lively and trendy district, and (in parts) upscale and sophisticated. It is a spacious district designed in the late 19th century by Ildefons Cerdà. It has long straight streets intersected by wide avenues and little parks. The buildings are built around courtyards, and there are many markets, as envisaged in the original plan.
Much splendid original Modernista (Art Nouveau) architecture remains in the heart of the district, though buildings from 1960s to the1980s now dominate the area. Particularly notable are the works of Antonio Gaudi along the tree-lined Passeig de Gràcia boulevard. There is also Gaudi's famous unfinished church, the Sagrada Família.
The streets between Enrique Granados, Bruc, Diagonal and Gran Via are known as the "Golden Box," because the grandest and most expensive properties are here. Two of Barcelona's most desirable residential streets are in the Golden Box - Enrique Granados and Calle Bruc.
Many expatriates live here, and it is clean and safe.
The Sagrada Familia area is also attractive. It has fewer elegant buildings, but is pleasant and conveniently situated. The most sought-after accommodations have a view of the church, or are in the streets around Paseo De San Juan.
Aficionados of the Modernista style may prefer Dreta de l'Eixample, and not least, that part of the district to the left of Passeig de Gràcia, where most Modernista architecture is found.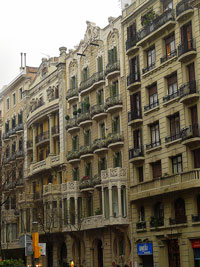 If you are inclined to choose an apartment in one of the older buildings, note that in 19th- and early 20th-century buildings, the finest apartments are on the ground floor were more in demand in the days before lifts. These days, many find the upper floor apartments preferable. Though usually less grand they are quieter, have more light, and offer easy access to the roof patios. In the less affluent areas, though, many of the old buildings are in disrepair.
Many different kinds of people are attracted to the Eixample. It has a bustling nightlife, with its many restaurants, bars, and nightclubs. It also has many art galleries and shops, including one-of-a-kind Catalan specialty stores. There are also many Asian stores in the Fort Pienc area.
---