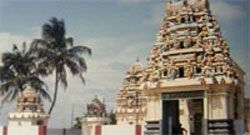 Sri Lanka's Eastern Province was, until recently, a Tamil Tiger stronghold. Much of the province's infrastructure was ruined in the civil war. Though the provincial elections were held in 2008, the political situation is still fluid, without the Sri Lankan government exhibiting a clear strategy for winning the peace. This area is best avoided until the political issues between the Tamils and the Sinhalese are resolved.

There are famous Temple schools here. Most of them are in bad shape due to the incessant shelling during the war. Eastern University is located in Vantarumoolai, Batticola.
Trincomalee
Trincomalee is part of the district of Trincomalee. Historically referred to as Gokarna, it is a sea port that has played a major role in the maritime and international trading history of Sri Lanka. Trincomalee has the largest Dutch fortress and the oldest Hindu temple in the country. There are hot springs nearby, and a famous temple with a thousand columns. The Seruwila and Tiriyay temples are Buddhist shrines.
---