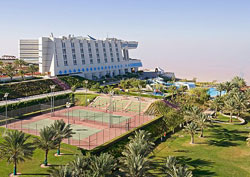 The Eastern Region is the greenest area in the federation, due to its rich groundwater supplies. The emirate's first settlements were made here 4,000 years ago. It then became home to camel-herding Bedouin nomads. Camels remain important to the local way of life here, as some agricultural areas, such as the Qattarah Oasis, still rely on the ancient irrigation system called falaj, an underground network of tunnels which bring water from their point of origin to farms and homes.

Another lovely feature of the Eastern Region is Jebel Hafeet. The UAE's second highest mountain peak with a height of 1,200 metres from sea level, Jebel Hafeet is part of the Hajar range that goes through Abu Dhabi and Oman. Traditionally popular for hunting, the mountain still has a large variety of indigenous wildlife, including the Arabian tahr, a type of mountain goat.
Amidst the mountain's wadis, limestone formations and cave systems are excavation sites revealing prehistoric circular graves and various archaeological treasures. Much more ancient are the marine fossils that have been found here, such as coral, crab claws, sea urchins and oysters, and the microscopic nummulites. These small fossils were important clues to geologists exploring for oil, giving them data regarding the age of rocks in the area. Jebel Hafeet looms over the Eastern Region's jewel, Al Ain, the Garden City of the UAE.
Al Ain
The birthplace of the UAE's founding father, Sheik Zayed, Al Ain is an ancient oasis town where caravans passed through to and from Oman. By car, it is about one and a half hours away from Abu Dhabi City.
Palm plantations with the traditional falaj irrigation channels dot the city, along with date farms and archaeological sites. Although Al Ain is the UAE's fourth biggest city, it is not thickly populated, and only 10% of the residents are Western foreigners. The climate is less humid, making the city a popular destination, especially in the summer.
The cityscape is filled with low-rise structures amid public parks and roundabouts with water fountains and landscaped gardens. The city is also home to the federation's oldest university.
The first Iron Age settlement excavated in the UAE is here at Rumeilah, displaying well-preserved mud brick buildings occupied around 1000 to 3000 BC. Most artifacts discovered in the region, including ancient gold jewellery and coins, are now stored in the Al Ain Museum.
The city also features restored landmarks such as the Jahili Fort, Mujairib Fort, Al Muwaiji Fort, Mazyad Fort, and Hili Fort. The emirate proposes to have Al Ain declared as a World Heritage Site by the UN.
---