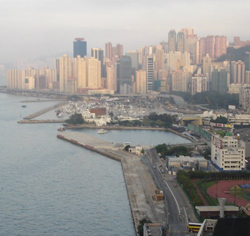 The Eastern District is the most densely populated area on Hong Kong Island, yet it has the large, tranquil Tai Tam Country Park at its centre.

The district is mostly mountainous, and only developed along the coastline. This area is mostly residential, with huge condominium buildings up to 70 storeys high, older low-rise commercial buildings, and two neighbourhood malls, the Kornhill and Cityplaza.

New luxury developments are constantly being built, creeping up the mountain to get that elusive best view of the harbour.

The view of Victoria Harbour from the 530-metre Mount Parker in Tai Tam Country Park is breathtaking. Up here, only the gentle sounds of small wildlife break the silence.
Right at the water, cars have the best views from the Island Eastern Corridor, which runs along the northern coastline and connects to the tunnel to Kowloon. Along the highway is a former British fort, now the Museum of Coastal Defence. Nearby, Victoria Park is nestled in the urban jungle. It has large open spaces that are often used for large, city-wide events. Ten MTR stations and a very efficient tram system serve this area and make it very accessible to Kowloon and C&W. This district also has a wide selection of housing options.
---