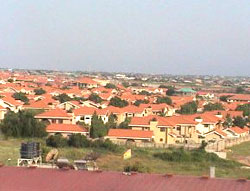 Distinguished by mountains and highlands, lush forests and waterfalls, a pleasant capital city and the massive Lake Volta, Ghana's Eastern Region has a lot to offer the visitor.

It is one of Ghana's most populated regions, with more than 2 million inhabitants belonging to several ethnic groups. Its capital is Koforidua.

Some of the region's attractions include the oldest cocoa farm in Ghana, the remains of an old slave market in the town of Abonse, and the Aburi Botanical Gardens,  which abounds in local flora and the birds and butterflies they attract. The region also has some spectacular waterfalls, such as Boti Falls in Huhunya and the cascades of Begoro.
However, the dominant feature of the region's landscape is Lake Volta, the world's largest man-made lake. Making trips to the lake's small islands, fishing, and swimming are popular activities here. Dodi Island in particular is well-visited. The lake was created when the River Vlta was dammed. It supplies hydroelectric power to the rest of the country and to neighbouring Togo and Benin.
More than half of the region's population live in rural areas and are agricultural workers. Mining for gold and diamonds is also an important activity here.
Koforidua
The capital of the Eastern Region is the town of Koforidua, with the green bulk of Obuotabiri mountain behind it. Sometimes known to its residents as Koftown, the city is made up of suburban areas such as Srodae and Betom and the more upmarket Atechem and Adweso. The town centre can become crowded with commuters, or shoppers making their purchases at the central market or the stores that line the streets. There are also some hotels in the area. St. George's Catholic Church dominates the town.
---