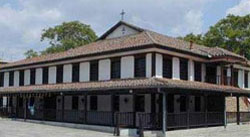 East Macedonia and Thrace consists of a thin strip of land bordering the Aegean Sea, plus a few islands.

The region's preserved forests and wetlands are a haven for waterbirds. There are beautiful sandy beaches along the coast and lovely islands.


The mainland boasts many fascinating archaeological sites, including its capital, Komotini, which has forts from pre-Christian to Byzantine eras.
The town of Kaval has a medieval castle and is situated right beside ancient Philippi.
Thrace has remnants from the Neolithic and classical ages. There are many old mansions, plus a Byzantine castle, in the town of Xanthi.
Drama
Drama is a mountainous region where springs, rivers, and lakes abound. A virgin forest and forest villages surround the area. Mount Falakro is the scenic backdrop of the capital, Drama.
There are many beautiful mansions in the city's old neighbourhoods. Some houses are from the 10th and 12th centuries. There are traditional watermills and old storehouses from the days when the tobacco industry thrived here. Today it prospers in timber production and marble export.
Drama has modern shopping centres, hospitals, music schools, cinemas, and sports facilities. As an important cultural centre, it hosts well-attended international short film festivals.
The city continues to change and develop, accommodating residents' demands. Some old houses are now painted in non-traditional colours. More modern neighbourhoods are built.
Kavala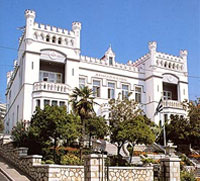 Regions in Kavala prefecture seem to compete with each other for attention, as the west features modern buildings and shopping centres, the east has traditional villages and small gardens, and the lands surrounding coastlines are scenic and lush.

Kavala once thrived in the tobacco industry, and old warehouses still stand today. The capital, Kavala City, is a highly developed city known for its marble.
 
Kavala City
Historic buildings abound in Kavala City. The Aqueduct is quite an impressive feature of a rather sad part of the town, where many Turkish soup kitchens can be found. Acropolis, a 15th century Byzantine castle, sits on top of a hill.
Muhammad Ali Pasha, who established the dynasty that ruled over Egypt until 1952, was born here, and his house still stands. The Imaret, a theological seminary built by Ali in 1817, is now a posh hotel. In Thassos lies an interesting ancient agora (market) complex.
Old Turkish houses can be found in Panagia. On Kypouro Street, elegant mansions have also survived.
The modern part of the city has many inexpensive shops that cater to tourists at the city's centre. It also carries known international fashion brands such as Zara, Sisley, Nike, and United Colours of Benetton. Old storehouses have been renovated and turned into restaurants, bars, and night clubs.
Xanthi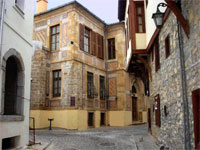 Xanthi, the smallest prefecture in East Macedonia and Thrace, is mostly rural and agricultural, with traditional villages surrounded by forests and connected with an asphalt road. Its first settlements trace back to the Neolithic Age. Xanthi City, "the town of a thousand colours," is the capital and main settlement.
Xanthi City
Xanthi is quite charming. It has narrow cobbled streets lined with shops, bars, and cafés. There are mosques and bell towers, Turkish mansions and tobacco stores. Monasteries can be found on the nearby hills. The parks and squares have a lively vibe where colourful political posters are exhibited.
Xanthi hosts a number of students attending the Polytechnic School of Democritus University of Thrace, whose central administration is located in Komotoni. Many room rentals and restaurants cater to their budget.
Evros
The forests and fertile plains of Evros are flat, then start sloping upwards into Mount Silo  in the south-west. The Dadia forest at Soufli and the Evros Delta are wildlife reserves, protecting important predatory birds.
Alexandroupoli, a modern city with great urban planning, is known for its silk. It also has Hellenistic and Byzantine ruins, and boasts the biggest lighthouse in Greece. Nearby are the thermal springs of Loutros, visited for their curative wonders.
Rhodope
The story of Orpheus, the great musician of Greek myth, is associated with Rhodope. Today, the region is also more associated with the mundane activities of agriculture and mining, which are among its biggest sources of economy. The verdant Rhodope Mountains dominate the region and are mined for their deposits of lead and zinc.
Rhodope has picturesque Muslim villages discovered by tourists only recently.
Komotini/Komotene City
Komotini City boasts architectural styles from different periods in history. Its most prominent feature is the 4th century Byzantine castle, with some parts destroyed by war. Nineteenth century Ottoman mansions owned by rich traders have survived. A clock tower from the late 1800s still stands. More modern constructions have neoclassical and baroque influences.
Modern Komotini is highly populated and commercial. Many supermarkets and department stores surround the squares. It has open theatres and hosts many cultural events. With many shops rising in the city, it is very likely that it will become a great shopping stop.
---