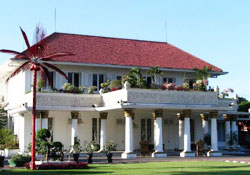 East Java is a busy Indonesian province. Surabaya, its capital is the second largest city in the country and a major port and industrial center. Consisting mostly of Javanese and Maduranese, the majority of East Java is Muslim.

East Java is a beautiful province with temples and beaches, lakes and mountains such as the "sulfur mountain" Welirang. East Java was where the Majapahit Empire ruled, few temple ruins a testament to this. East Java's modern history victory is its pivotal role in winning against the struggle for independence against the Dutch in 1945.
East Java also has some great cultural attractions. Dances such as the Reyong Trance Dance and the Tayub Dance are examples. Reyong Trance Dance is a traditional dance performed by 15 dancers in peacock-feathered headdresses and tiger masks while Tayub is a social dance performed at celebratory occasions. With the use of scarves, dancers invite guests of the gathers to join them. In Madura, the stadium of Pamekasan is a regular attraction for its Karapan Sapi, or bull races.
Surabaya
Surabaya, the capital of East Java, is Indonesia's second largest city and one of the largest cities in Southeast Asia, having a population of around three million. The city, known as the "city of heroes" as it played a great role during the Indonesian National Revolution, has 31 sub-districts and 163 villages. Its multi-ethnic population consists of Arabic, Chinese, Indian, Malaysian, and European, as well as Surabaya, Madura and other island natives. Many of its citizens work in the retail industry.
The very modern city, which features multiplexes, high towers, large shopping centres, and six-lane freeways, serves as the province's main commercial centre and seaport. Surabaya has a strong maritime heritage and is the home of the Indonesian navy's Eastern Armada.
The largest mosque in East Java is found in Surabaya. Other historic buildings here are the Hotel Majapahit, which played a significant role in the Indonesian war of independence, and the 18th century mansion Grahadi Building, official residence of East Java's governor.
The first and biggest residential development in Surabaya is CitraRaya Surabaya, opened in 1993. It took inspiration from Singapore and promoted itself as "the Singapore of Surabaya". It targets the middle- to upper-middle classes.
Several developments followed CitraRaya, including a members-only family club and an exclusive 18-hole golf course. North of CitraRaya is the Bukit Palma, re-launched in 2003 after being suspended in 2001 following the 1998 financial crisis. It offers affordable houses for middle-income buyers.
Ciputra Water Park, the largest water park in Indonesia, was opened in CitraRaya in 2005.
---