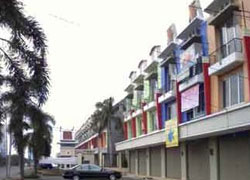 East Jakarta is an area visited mostly by tourists. The most popular area here is Taman Mini Indonesia Indah. The idea for the park came from Indonesia's former first lady who wanted to instil more national pride in her people. The idea of a recreational facility that incorporated the many riches of the Indonesia seemed to be the perfect springboard for this.

The park is in a sprawling outdoor complex. It has model homes that represent each of the 26 different provinces in Indonesia that incorporate not only the way people from each province live, but each distinct culture as well. The homes are placed around the main lake in Taman Mini, arranged thematically to mirror that of the main islands of Indonesia.
Outside of the small miniatures of Indonesia culture, there are also 10 different themed gardens as well as 14 specialty museums. There is a grand theatre here as well where cultural shows are performed daily.
Cakung
The sub-district of Cakung consists of 7 administrative villages. Accessible from it is the site of the new residential development Jakarta Garden City near Kelapa Gading sub-district. The 240-hectare development managed by Keppel Land has a Singapore-style concept that aims to provide cosmopolitan living within a secured, eco-conscious environment.
The residential township is set to be constructed over 10 years, and once completed, will feature villas, landed houses, townhouses, a multipurpose clubhouse, university, international school, hospital, hotel, shopping mall and entertainment centre, hypermarket, and many more medical facilities, shops, and basic services.
---