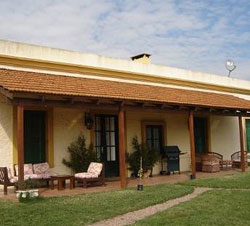 The department of Durazno is a meat and dairy product processing and trade centre for the cattle industry. It is also famous for its peaches, for which the department and its capital city are named.

Sites of interest in Durazno include the Parque de la Hispanidad, where the annual Gaucho Gathering and the famous rock festival Pilsen Rock are held; the avant-garde Saint Peter's Parish; and the beaches along the Río Yi, such as Sauzal, which was named after the willow trees that grow near the sandy shore.
A hydroelectric network built in the 1930s from the Río Negro and Río Yi provides water for drinking as well as crop irrigation and the generation of electric power to the region. Durazno is also home to an alternative international airport equipped with modern runways and facilities.
Durazno City
Durazno City is situated on the banks of the Río Yi. It is a city rich in tradition, as evidenced by its Spanish colonial residences, beautiful plazas and green parks.
The city's main plaza, Independence Square, was the site where the Treinta y Tres Orientales swore allegiance to the Uruguayan flag on April 30, 1825. In a similar oath-taking ceremony on July 20, 1830, the National Army swore to defend and uphold the Constitution. A monument to Christopher Columbus in the heart of the square contains a time capsule. Placed within the monument in 1992, the time capsule will be opened in the 2092 on the occasion of the 600th anniversary of Columbus' reaching the Americas. There are a number of museums in Durazno in honour of these historic events and figures.
Some of Durazno's popular beaches are El Sauzal, Puente Nuevo, Puerto de los Barriles, Balneario Independencia, and El Paso. Another attraction here is the Municipal Zoo.
Durazno City is home to the Hispanic World Park where the National Folk Festival, Pilsen Rock and Cumbia Festival are held yearly. The park has the biggest stage in the county, making it an ideal venue for major cultural and entertainment events.
---