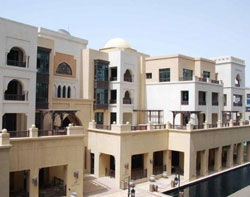 The Downtown development (a prime area) symbolizes Dubai's desire to become a prime centre for global corporations. Its future landmarks will be centred around the world's tallest building, Burj Dubai. This is still being built, but is already 808 metres tall.

Downtown will host glittering corporate centres, luxury houses and hotels, name-brand boutiques, and majestic landscaped gardens, canals and walkways. It will even have its own man-made lake, to provide a beautiful oasis.
The Downtown district is built around the Dubai International Finance Centre, a free trade zone with zero tax rates, and the World Trade Centre, which has been holding well-attended international exhibits for more than 30 years.
Burj Dubai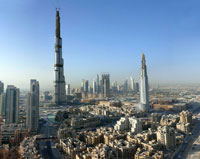 The crown jewel of Downtown Dubai is the ultimate skyscraper, Burj Dubai, which will have the world's fastest elevators, double-deckers that can carry 42 passengers at a time. Aside from residential units, it will house business offices, social clubs, cafes and restaurants, fitness centres, a library and an observation deck. The Armani Hotel, occupying the building's first 37 floors, has interiors designed by Giorgio Armani.

The Burj Dubai is so big that the world's biggest mall, the Dubai Mall, is actually inside it. It has an indoor gold souk with 200 shops, 22 movie screens, a walk-through aquarium, and an Olympic-sized ice skating rink.
Old Town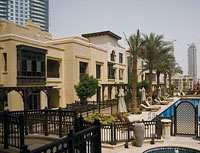 Burj Dubai's modern brashness will be balanced by the Old Town residential community right next to it. An opulent urban village inspired by traditional Arab design, the Old Town will feature low- and mid-rise apartment buildings, with high ceilings, natural-coloured surfaces and private open-air areas. Amidst the 37 buildings are courtyards, pathways, small shops, beauty parlours, outdoor cafes and restaurants, adding to the sense of its being an Arabic community.
Old Town Island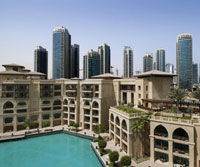 Old Town Island likewise will reflect Arab architecture and design. This exclusive mixed-development will span 26 hectares beside the man-made lake, opposite Burj Dubai. Middle Eastern motifs will dominate its residential, business and entertainment structures, and retail spaces will echo the old-world charm of a traditional souk. The elegant 5-star Palace Hotel is the centrepiece, surrounded by luxury stores, outdoor restaurants and entertainment venues, and waterfront low-rise homes.

Spectacular developments in Downtown include The Residences, a cluster of nine towers beside the lake and Burj Dubai, with one- to three-bedroom apartment units, villas and penthouses. The nearby Burj Views has small, one- and two-bedroom units. The two towers of 18 Burj Dubai Boulevard stand out due to their curvilinear shape. They are near the Dubai Mall, the Dubai Metro and the Burj Dubai Tram system.
29 Burj Dubai Boulevard offers a retro-urban classic New York high-rise look, with some Arabian design elements. The Lofts offers two-storey lofts in three medium-rise towers no higher than 30 storeys. Each floor has six units with outdoor balconies.
Other developments include Burj Dubai Lake Hotel and Serviced Apartments, a 5-star, 63-storey curvilinear complex with a stunning view of the Burj Dubai Lake and the Old Town across it. The Dubai Mall is next door. Boulevard Crescent has villas and nine high-rise buildings surrounded by a landscaped environment alive with lush greenery and open water.
South Ridge has six high-rise towers with modern Islamic architecture. Its residents can easily stroll over to the Burj Dubai Boulevard to enjoy its commercial and entertainment attractions, and have convenient access to the Dubai International Finance Centre
Business Bay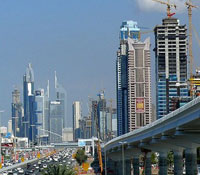 Sandwiched between the Dubai International Financial Centre and the Downtown Burj Dubai, the Business Bay covers a land area of nearly six million square metres. It is expected to become Dubai's central business district by 2010, the nerve centre of top local, regional and international companies.

The project's towering commercial and upscale residential buildings are being constructed on reclaimed land in the Dubai Creek, spanning Ras Al Khor to Sheikh Zayed Road.

The Business Bay's 230 corporate and residential buildings, when finished, will make up Dubai's business capital.
Dubai International Finance Centre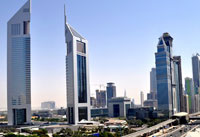 The Dubai International Financial Centre or DIFC spans 110 acres of free trade, and has progressed speedily since 2004 to become a highly regarded player in world finance.

This tax-free zone adheres to strict financial regulations, transparency and international standards in doing business. The DIFC hosts the Dubai stock exchange. Its neighbour is the Trade Centre, which regularly hosts numerous international exhibits.

Being a primarily business district, DIFC only has a few residential buildings. The 43-storey Sky Gardens, a sleek, minimalist residential building, was the first to arise, and boasts lush indoor gardens. A footbridge will be built between the two structures, right across the DIFC.

The 39-storey World Trade Centre, in operation since 1977, has gained a solid reputation for international conferences, large-scale events and trade exhibits. The building also has a residential portion and leisure and dining facilities.
---
Find properties for sale in Downtown District, United Arab Emirates