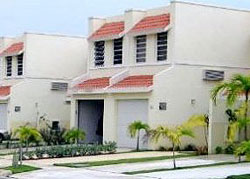 Prosperous Dorado is known as the tourist centre of Puerto Rico because of its concentration of famous hotel chains and world-class resorts.

Originally, a barrio of Toa Baja in 1831, Dorado has emerged as an upscale residential town. Credit for the recognition of the town's potential goes to the powerful Rockefeller family who, in the early 1900s, bought large plots of land here to build a huge private vacation compound. In the years that followed, Laurance Rockefeller decided to develop the property and built the Dorado Beach Hotel and Golf Club, now the Hyatt Hacienda Del Mar. Two other prominent hotels in the area are the Hyatt Dorado Beach Hotel and the Hyatt Regency Cerromar.

The site of the old Dorado Airport was redeveloped into residential land in the 1990s.
There are many things to do in Dorado. The city's beaches attract lovers of swimming, jet skiing and other water sports. El Unico and Kikita have strong waves that appeal to the surfing crowd. Dorado also has world-class golf courses.
There are also a few interesting places to visit. The Museum Casa del Rey, which displays Spanish colonial artefacts, was originally a house intended for the visiting King and Queen of Spain. The Sanctuary of the Christ of the Reconciliation houses the third largest statue of Jesus Christ in the Caribbean. One nice park to visit with the family is Ojo del Buey Park near the La Plata River. The name of the park, which means "ox's eye", originates from a rock formation that is shaped like an ox.
Many famous people live or own properties in town, notably Carlos Romero Barcelo and Ricky Martin.
---