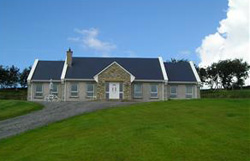 County Donegal is a mountainous place, with the Derryveagh and Bluestack ranges running through it. Among the famed Hills of Donegal are quiet woods, vast bogs, and the River Finn.

Donegal has a lengthy Atlantic coast with secluded sand beaches and little fishing ports and the very high and stunning the high Slieve League cliffs.

The county is relatively isolated from the rest of Ireland, as the only county it borders is Leitrim; elsewhere it borders Northern Ireland. This has led to its developing a rather different culture from the rest of the country. "Up here it's different" has become their tourism slogan. Tourists do make their way to this northern county; Bundoran, the most popular seaside resort in Ireland, is near the border Donegal shares with Leitrim.
Traditional Irish games as well as the Irish language are strongly preserved through much of the county. The Irish language as spoken in Donegal is unique, being similar to Scottish Gaelic. The towns frequently have signs in the local language. They have delightful pubs and restaurants and.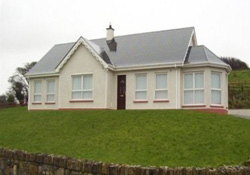 The name of the county is derived from the Irish phrase Dún na nGall, or "fort of the foreigner"—a reference to the Vikings that took over the area in the 9th century. Remains of Viking settlements can still be seen around Donegal. There are also important early Christian sites here, especially Lough Derg, where St Patrick once stayed. An attraction combining Donegal's natural beauty with elegant design is Glenveagh National Park. Included in its 16,000 hectares of sprawling countryside are sheltered groves and manicured gardens near Glenveagh Castle. Another elegant stately home is the Regency-style Glebe House and Gallery, which houses more than 300 works by modern artists, including Picasso. A more down-to-earth attraction is a folk village with a number of houses representing different historical periods. A cozy tea shop serving homemade goodies is part of this model village.
---