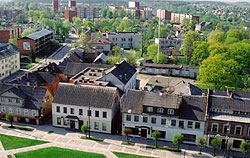 The tiny Dobele District is dominated by agricultural land, which makes up approximately 59% of its area. It is situated upon the sprawling Zemgale Plain with its warm climate that is suited to cultivation.

The area of the Dobele District is one of the oldest inhabited parts of Latvia; people had settled here as far back as the 1st millennium B.C. Evidence of this is found in the archaeological remnants of ancient grave sites, settlement sites, and castle mounds.

Dobele has a largely rural populace, accounting for more than 60% of its inhabitants. The rural folk primarily live in what used to be collective farm centres, some of them almost large enough to be towns. One of the larger former collectives is Auce, which was formed in the 1920s.
The Dobele District is a lively centre for tourism. It is rich in cultural and historical attractions, such as the Dobele Castle ruins, Pokainu Forest, Kesters Forest, King's Spring in Kevele, and the Lilac Garden. The Latvian writer Anna Brigadere, who came from Tervete, is commemorated in a local museum and standing figures of her characters in Tervete Nature Park. Karlis Ulmanis, a founder and former prime minister of the state of Latvia, is memorialized in a museum housed in his Berze residence.
The district centre is the city of Dobele. Lying along the banks of Berze River, Dobele has a long history, and was in existence before 1254 according to records. Its first castle was built out of wood in 1289, then reconstructed using stone in 1335.
---