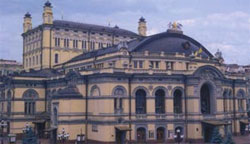 Dniprovskyi is an administrative raion in Kiev. It has been witnessing real estate development in the past few years. For one, the construction of a 25-storey apartment building with 203 units began in 2008. The business-class dwelling house on Yuria Shumskoho Street has 1- to 4-room flats and an underground parking for 80 cars.

KOMOD, a trade and entertainment complex on Lunacharskogo Street, has office centres, international fashion brands new to Ukraine, Western cafés and restaurants, a 4-hall multiplex cinema, a gourmet supermarket, and covered parking.



Berezniaky
Berezniaky is a neighbourhood in Kiev. It derived its name from the birch trees that once grew thickly in the area. Its construction started in the 1970s, and it is now a highly populated district.
Rusanivka
Rusanivka is a neighbourhood on the Dnieper River's left bank. A canal and the river's tributary surround the district, making it look like an island.

The district lacks industry and is primarily residential, with lots of apartment buildings. It was designed to be serviced by public buses and boats, but the latter proved uneconomical. The district is too small for a large number of private vehicles as well and parking can be difficult, so residents rather prefer walking and taking the bus or the metro.

The district's main street is Rusanivska Naberezhna, where many stores and cafés are located.
---