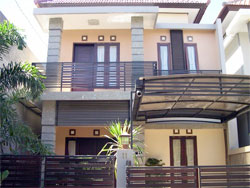 The capital and largest city of Bali is Denpasar, (a prime area) the main gateway into Bali. While many tourists overlook Denpasar to get into more well known areas such as Kuta and Nusa Dua, Denpasar has much to offer. It is a busy city, not without the crazy hustle and bustle of traffic, big roads and jam-packed areas full of shops and buildings, yet ironically, still laidback, exuding the relaxed vibe that only Bali could have. Denpasar has become an interesting balance of nature and man, old and new.
One may notice that the feel in Denpasar is more "Indonesian" than it is uniquely Balinese. This is because Denpasar is where a new generation of Balinese are growing up. They look more towards the modern, westernized Indonesia than to the traditional Balinese ways of life.
Since it became Bali's capital in 1958, Denpasar has progressed much. Denpasar provides educational, commercial and administrative services not only to Bali but much of eastern Indonesia. It is not only the most dynamic city in these parts but possibly, one of the richest.
The crazy growth in this city has left little land in Denpasar, many of its rice fields and open airs now but a distant memory. In some areas though, rather than being blasted away by urbanization, allowed it grow regardless, creating an eclectic mix of modern estates amongst old villages and rice fields. But more often than not, you will see shops, markets, narrow alleys and small homes all over the city.
Because of the urban growth in Denpasar, the city has been welcoming immigrants from all over, both Balinese and otherwise. Balinese still make up a majority of the population as old Balinese nobility moved into Denpasar, taking up positions in major administrative roles. These Balinese immigrants along with the local nobility make up Denpasar's bourgeoisie. They live in modern "palaces" – villas with neoclassical columns, beautiful Spanish balconies and roof temples.
The rest of the Balinese population have come as teachers, traders, nurses and students. It is these locals who have been responsible for the creation of new architectural landscapes in Denpasar. No longer do we see traditional compounds with many shrines and buildings, but rather, single detached homes with a multi-purpose shrine. These locals return home to their village of origin for major ceremonies and thus, can live without the multiple shrines in their work life.
A Muslim and Chinese population are present here, and in fact have been around since the earlier times, coming in mostly as traders. Most migrants though are the Javanese and Madurese, known together as "jawa". They make up the rest of the ranks in the military and civil service, as well as the working classes, both skilled and unskilled.
All of these ethnic backgrounds make for an interesting mix of architectures in Denpasar. Interesting old buildings can be seen side by side or behind a line of gaudy shops.
Unfortunately, there is no heritage conservation policy in Bali. Old buildings around the city may find themselves replaced with more modern concrete structures. There is little land to build on as it is, which also adds to the strangeness in some buildings. Old Balinese compounds for example are a set of buildings. But due to scarcity of land, the newer homes make do with just a decorative roof, or a carved panel. Unusual, but bringing with it its own inevitably modern charm.
There are lots of temples in Denpasar, such as the Jagat Natha Temple. It is one of the newest, most beautiful and most accessible temples in the city.
More elaborate temples are the royal temples found near the Palace of Satria, the royal residence of the King of Denpasar. The temples here are made of brick but without mortar and are intricately and delightfully carved. Pura Maospahit Temple and the Jero Kuta Palace still has all the traditional structures of a royal compound.
Other palaces have been transformed into other things, such as the elaborate Pemecutan Palace which is now a hotel, and the Kesiman palace, now a private home.
Denpasar is a performing arts mecca for Balinese dance and music. While traditional performances are practiced here, new dances and music are usually created and spread from here. Werdi Budaya performing and fine arts centre has three art galleries, an open air stage, arena and pavilion. It is a popular venue for local artists, dance troupes and drama groups. Denpasar is also famous for its handicrafts – beautiful batik textiles, silver jewellery, artwork or pottery.
Like many of its neighbouring towns, Denpasar has its share of white sandy beaches.

Sanur
Sanur is a sleepy laid back area found on Bali's eastern coastline. The waves gently lap the white shores of the quiet, coconut tree shaded beach. It claims the title of being Bali's first beach resort.

Sanur is saturated in much history, written inscriptions from 913 found here. It was for many centuries, an important area with the Muslim and Chinese traders. A nearby island in fact is home to a Muslim fishing community, said to be descendants from these very traders. Sanur is most known for the inland Brahmin communities of Anggarkasih and Taman. These communities live in ornately gated compounds and are believed to use magic.
What many love about Sanur is its tranquillity; a smattering of private luxury hotels, the gradation of black to white sand, and lovely boutiques and small cafes found on shaded streets. It is a favourite amongst families and visitors looking for the right balance of beach R&R and the Balinese cultural experience.
The most popular tourist spot in Sanur is the Pura Sakenan temple. Like many other temples that dot the coast, this temple is built from coral-stone and is visited by thousands of worshippers during Kuningan Day, one of the biggest Hindu holidays in Bali. Nearby is Serangan Island. Once lucrative grounds for catching and slaughtering sea turtles for their meat and shells, it is now a turtle hatchery due to the loss of sea turtles in the area.
---