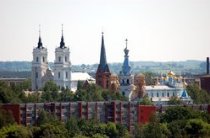 Daugavpils is the second-largest city of Latvia, after Riga. Daugavpils lies along the banks of the meandering Daugava River. The city is an international crossroads; it is fairly close to the national borders with the countries of Belarus and Lithuania; furthermore, it is about 120 km away from Latvia's border with Russia. Unsurprisingly, the city is home to the largest population of Russian speakers in Latvia. Russian Old Believer and Jewish populations were a major influence on the cultural growth of the city.
The city abounds in cultural riches, from the 19th-century architecture in the historic centre to the massive Dinaburg (now Daugavpils) Fortress. It began construction in 1810 per the wishes of Tsar Alexander I of Russia. It was completed in 1878 and, almost unchanged since then, it remains the largest fortress in Europe.
The historical city centre showcases a fantastic range of architectural designs, most notably buildings of the distinctive Latgale Baroque style with their characteristic red-brick facades. Other buildings of note include an Orthodox cathedral and several late 19th-century Catholic and Lutheran churches. The historical centre is also home to the Daugavpils Musical and Drama Theatre, as well as the Daugavpils Local Arts and History Museum which is housed at 8 Riga St. The museum house dates from the late 19th century and still retains the original design of its era.
Daugavpils is a key educational centre, with some 22 primary and secondary schools, including the Daugavpils Pedagogical University, a branch of the Riga Technical University, and the "Saules Skola", or Daugavpils Art Secondary School.
Daugavpils is considered quite a green city. It is in the neighbourhood of 8 rivers and 15 lakes. There are numerous forests and parks close to the city, including the Daugavas Loki Nature Park on the banks of the Daugava River, and Pilskalnes Siguldina Forest Landscape Park. In the centre of the city lies the three-hectare Dubrovin's Park.
Daugavpils is also an important railway junction.
---