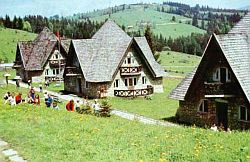 Darnytsia (a prime area) houses chemical, textile, pharmaceutical and food processing industries, as well as major infrastructure projects—heat-and-power co-generation units, railroad stations, highways, and Metro lines.

Darnytsia is also home to several research institutions. Three major chemical institutes of the National Academy of Sciences of Ukraine are in Darnytsia.
Kharkivskyi
On the south end of the Dnieper River's left bank, the neighbourhood of Kharkivskyi was developed between the mid-1980s and early 1990s following apartment block plans. The neighbourhood has many lakes and its beaches are a popular attraction.

In the early to mid-1990s, the metro was extended to better cover the neighbourhood.
Additional development began in Kharkivskyi in 2000, with modern, Western-style apartment buildings being constructed around the lakes. The opening of shops, restaurants, and bars in the vicinity also increased the neighbourhood's prestige.
Lisovyi
Lisovyi masyv (literally, "forest neighbourhood") is bordered by forests in the north and east; the Bratislavskyi Street on the west, and by the Brovarskyi Prospect on the south.
The neighbourhood has many schools from kindergarten upwards, including the Kiev National Economic-Commerce University.
Forms of transportation in Lisovyi include the city's buses, trolleybuses, and private minibuses called marshrutkas.
---