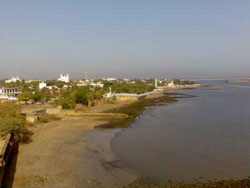 Daman and Diu are two little enclaves. Daman, the capital, is located by the mouth of the Daman Ganga River amidst the state of Gujarat. The small island of Diu lies off the coast of Gujarat. Only a narrow channel separates Diu from the Indian peninsula, so it is accessible by rail and road.

Tourists are attracted to this territory by its unspoilt beaches, clear waters, and pleasant maritime climate. Diu is cooler than Daman in summer, as it enjoys more abundant sea breezes.
Having been a Portuguese colony in the past, Diu is home to a Portuguese Fort and some grand churches. Daman also has impressive forts and churches.
Daman, the capital, has two parts on opposite banks of the Daman Ganga River: Nanidaman and Motidaman. Nani means small and Moti large but Nanidaman is actually the bigger one.
Motidaman is the old city, and is occupied by government offices. The residential areas in Motidaman are mostly fishing villages.
Nanidaman contains most commercial establishments and the main residential areas.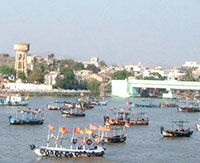 Daman is a popular place among local tourists as a relaxing getaway, with its warm secluded beaches, lush greenery, and lovely climate. The seafood here is excellent and there are charming bars and trendy restaurants by the sea.

The fact that there is no restriction on drinking alcohol here is an attractions, especially for the people of neighbouring Gujarat, where there is a liquor prohibition. Lately a number of foreigners have been discovering Daman and its beaches as well. It is also becoming a favourite place for corporate seminars.
There are good hospitals, schools, and other public institutions in Daman, drawing many professionals seeking employment to migrate here.
Along with the neighbouring towns Vapi and Silvassa, Daman is a centre of industry. All kinds of products, from toys to electronics, are manufactured here.
---