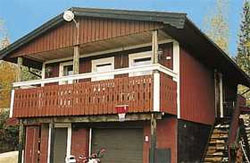 The scenery of Dalarna presents contrasting views, with the north dominated by mountain ranges and lakes, while the south has sprawling agricultural plains and copper mines.

Dalarna gets a lot of visitors during summertime, when Swedes gravitate to its lakes and camping grounds. Leisure time is spent by the water, where people fish, canoe, and go river-rafting. There are also facilities here for the more urban activities of golf and tennis.

The Dala mountains, along with Sälen and Idre-Grövelsjön, are part of the biggest ski resort in Sweden. Visitors flock here to go cross-country or downhill skiing in the winter.
---