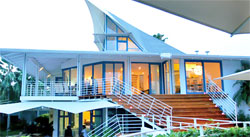 Of the five islands of the Netherlands Antilles, Curaçao (a prime area) has arguably the most diverse culture due to its population of 50 nationalities, particularly the Dutch, Spanish, African and Indonesian. This diversity is especially reflected in the island's varied cuisine.

Curaçao owes its considerable income to tourism, oil refining, financial services, shipping and international trade. The island has one of the highest standards of living in the Caribbean.

Curaçao boasts several natural attractions. Foremost of these are the wildlife park reserve Curaçao Christoffelpark, and Christoffelberg mountain, the highest point of the island. A unique, and rather dangerous, geographic feature of Curaçao is called Blue Edge, a sudden steep drop of the sea floor just a few hundred feet from the shore.

The island is also famous for its coral reefs.
There are also some interesting historic sites to see on the island, like the famous and much-photographed Wedding Cake House, the Floating Market, Queen Wilhelmina Park and the Waterfort Arches.
Blauwbaai/Blue Bay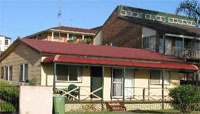 Blauwbaai is Curaçao's largest and most popular beach, located on the southern coast. Its many palm trees create a sense of seclusion and provide plenty of shade from the noon sun's heat.

The beach is perfect for relaxing or meeting travellers. Attractions nearby are the Central Curaçao Dive Spot and well preserved 19th century Fort Waakzaamheid, now housing a restaurant.
Blue Bay Golf and Beach Resort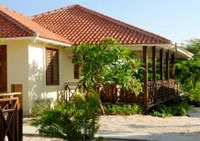 Just a short drive from Willemstad is the Blue Bay Golf and Beach Resort. It is a 420-acre resort community that combines residential living and the fun and excitement of an island vacation.