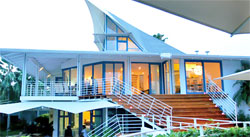 Of the five islands of the Netherlands Antilles, Curaçao (a prime area) has arguably the most diverse culture due to its population of 50 nationalities, particularly the Dutch, Spanish, African and Indonesian. This diversity is especially reflected in the island's varied cuisine.

Curaçao owes its considerable income to tourism, oil refining, financial services, shipping and international trade. The island has one of the highest standards of living in the Caribbean.

Curaçao boasts several natural attractions. Foremost of these are the wildlife park reserve Curaçao Christoffelpark, and Christoffelberg mountain, the highest point of the island. A unique, and rather dangerous, geographic feature of Curaçao is called Blue Edge, a sudden steep drop of the sea floor just a few hundred feet from the shore.

The island is also famous for its coral reefs.
There are also some interesting historic sites to see on the island, like the famous and much-photographed Wedding Cake House, the Floating Market, Queen Wilhelmina Park and the Waterfort Arches.
Blauwbaai/Blue Bay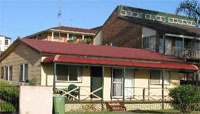 Blauwbaai is Curaçao's largest and most popular beach, located on the southern coast. Its many palm trees create a sense of seclusion and provide plenty of shade from the noon sun's heat.

The beach is perfect for relaxing or meeting travellers. Attractions nearby are the Central Curaçao Dive Spot and well preserved 19th century Fort Waakzaamheid, now housing a restaurant.
Blue Bay Golf and Beach Resort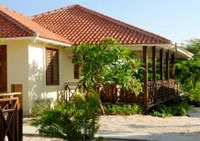 Just a short drive from Willemstad is the Blue Bay Golf and Beach Resort. It is a 420-acre resort community that combines residential living and the fun and excitement of an island vacation.


The complex is home to a challenging 18-hole championship golf course designed around the cliff.
Blue Bay Village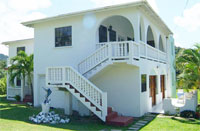 Blue Bay Village is located in the heart of the Blue Bay Golf and Beach Resort. The village is composed of 52 villas nestled by lush tropical gardens with a large swimming pool. It is located beside the golf course and is within walking distance of the beach.
Bottelier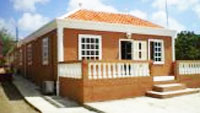 Bottelier is a quiet and upscale residential community that offers scenic views of the island.

A new gated community consisting of 12 apartments is being developed here. It has a beautifully landscaped garden, a community swimming pool, and private parking. Each apartment is spacious, with a large veranda and private bedroom porches.

Bottelier is conveniently located next to a supermarket and a number of beaches and restaurants.
Jan Thiel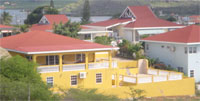 Jan Thiel lies on the eastern side of Curaçao and was the site of a former plantation. Its elevated location gives it a panoramic view of Jan Thiel Bay. The bay has a narrow strip of white sand than can hardly accommodate sunbathers, and is more famous for its Underwater Park. The waters are clear, making for a more breathtaking exploration of soft corals and sponges. There are also magnificent walls and two ship wrecks within the park.

The Dutch-village style gated community in Jan Thiel consists of a 350-room hotel, three 4- and 5-storey guest buildings, and clifftop guest villas. A special Vacation Ownership section composed of 200 units is offered to guests who wish to become residents of the community.

Jan Thiel also has a casino, a health spa, and a variety of retail shops, all of which are located in the community's Town Square.
De Plantage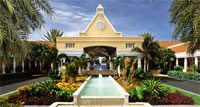 De Plantage is an upscale residential apartment complex located in Jan Thiel. It is conveniently near the bustling downtown area, but its privacy affords it peace and quiet.

Willemstad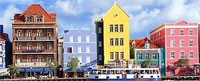 Willemstad is Curaçao's capital and the seat of government of the entire Netherlands Antilles.

Its location on Sint Anna Bay made it an important trade settlement. The historic harbour city is divided into four districts: Punda, Otrobanda, Scharloo, and Pietermaii. The oldest is Punda, the city's commercial centre. It has multi-storey merchant shops and a famous shopping street, Handelskade.

Otrobanda is the cultural centre, with a splendid display of 300 Dutch colonial houses. It is also an old residential area, where the Black middle class population is growing.
The suburbs of Scharloo and Pietermaii are famous for their elegant restored mansions. Both suburbs, and the entire city of Willemstad, have been placed on the UNESCO World Heritage List.
Willemstad has the greatest number of historic buildings in the Netherlands Antilles, numbering 750 in all. Some of these buildings now house hotels, restaurants and cafes, while others are preserved in their original state.
Sunset Heights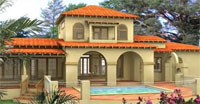 Sunset Heights is an exclusive hilltop residential neighbourhood on the outskirts of Willemstad. Here, residents of the large and luxurious villas enjoy a beautiful sea view from their terraces or private pools.


Bapor Kibra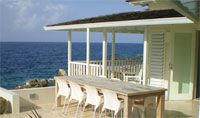 Bapor Kibra is home to the Sea Aquarium and Seaquarium Beach, two of Curaçao's most popular attractions. The Sea Aquarium has over 400 species of fish, crabs, sea anemones, sponges and corals. One can dive or snorkel and feed sea turtles, sharks and stingrays.


The beach becomes quite busy with water sports on weekends. Excellent facilities are available here, as well as a great array of restaurants, bars, and shops.
An important site and landmark in the region is the 100-year-old Bapor Kibra shipwreck, best explored during fine weather when the sea is less choppy.
Playa Kalki

Situated north of Curaçao is the popular sandy beach of Playa Kalki. It is beautifully sheltered by steep limestone cliffs.


One of the most explored sites here is the wreck of a Fokker Fairchild 27 that was placed in the bay as a dive site.
Westpunt
The black pebbly beach of Westpunt, also known as Playa Forti, is probably the only location in Curaçao not ideal for swimming, as the water becomes extremely deep. Walking barefoot is not wise either as the volcanic sand can heat up furiously. Its saving grace is the picturesque cove where fishermen haul their catch of the day.
The cove is surrounded by towering cliffs, which have become a popular diving site for daredevils.
Playa Lagun
South of Westpunt is Playa Lagun, a narrow cove situated between two towering cliffs. Considered a diver's paradise, it has dive sites for both novice and advanced divers. The shallow areas are ideal for beginners to train their fish lungs and legs, while enjoying the sight of abundant tropical marine life.
---