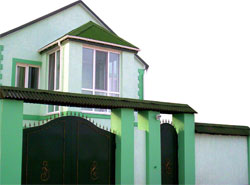 The Autonomous Republic of Crimea is connected to the mainland by a narrow strip of land (the Isthmus of Perekop). Crimea's capital is the landlocked town of Simferopol. Other important cities include the port cities of Kerch and the special status city of
Sevastopol.

Crimea's southern portion has a humid subtropical climate, making the coast popular among Ukrainian and Russian tourists as a beach destination and resort.
Crimea is known for its mosques and monasteries, and the castles of Russian imperial families and nobles, as well as Greek ruins. In the north there are the important industrial cities of Dzankhoy and Krasnoperekopsk.
Simferopol
Crimea's capital, Simferopol, is a large and bustling city on the banks of river Salgir. It has modestly beautiful tree-filled districts and a river park. There is an area where 19th to 20th century architectures can be found. The city has a number of restaurants, theatres, and clubs.
Simferopol was once a major business centre in Crimea, but now functions as a major transit point for tourists visiting historic Yalta, the resort town Alushta, or the Russian Black Sea Navy base, Sevastopol.
Yalta
The city of Yalta lies on the north coast of the Black Sea in Crimea. Its deep bay is beautifully nestled by forested hills and mountains, and the surrounding area is covered with picturesque orchards and vineyards.
Yalta was the Soviet Union's chief seaside resort during the 20th century. It turned from exclusive to proletariat, with many sanatoriums built for the medical treatment of workers. As foreign travel was forbidden to many Ukrainians, they flocked here during holidays. It was also used as a summer resort by the Soviet elite, including the dictator Stalin. This is also where Stalin, Roosevelt and Churchill decided on the fate of Central and Eastern Europe after WWII.
Modern Yalta is still frequented by many tourists coming from former Soviet Union countries. It can get really crowded during summer, with many luxury cruise ships visiting. People stroll and gather on the harbour, which is flanked by long and somewhat rocky beaches left and right, and take advantage of the cool breeze. Winters though bring bitter cold winds.
Two of Yalta's famous sites are the Massandra Palace, Stalin's summer residence, and the Swallow's Nest castle perched on a hill, which is now a restaurant.
Foros
Foros is a small but upscale resort town on the Black Sea coast in Yalta. It has been a beloved, posh resort since the Soviet era. The town is peaceful and nestles among thick forests and rock walls. Its centre has shady parks, several shops, bars, and restaurants.

Foros, which means "gust" or "wind", enjoys breezy days and the scent of pine trees. It is a favourite spot for trekking and rock climbing. Cape Sarych in Foros, the southernmost point in Crimea, is a popular camp spot for backpackers.
Foros' most beautiful sight is the Church of the Resurrection of Christ standing on a hill. It gives a magnificent view of the whole town and the surrounding mountains and seas.
The official residence of the Ukrainian president can be found in Foros. It was once the dacha where Mikhail Gorbachev was held under house arrest.
Feodosia
Feodosia, which at first glance looks a bit dull, is a popular port and resort town located on the Black Sea coast in Crimea. It has many beaches, mud baths, mineral spas, sanatoriums, and rest homes. It has the charming ambiance of a small town, but its facilities are quite modern.
The town, which is the birthplace of Russian aviation, relies on tourism mostly during summer, but it never gets overcrowded. Most tourists are either local or come from Russia. Winter months are bleak, with many restaurants, cafés, and bars closed. Year-round local activities are fishing, farming, canning, and brewing.
Feodosia is actually a very old town, with remnants of its rich past still in view—the ruins of a Genoese fortress, a 15th century Armenian temple and a 16th century mosque, and several churches. Feodosia has several museums and a famous painting gallery.
Koktebel
Koktebel, which means "land of the blue hills" in Tatar, is a famous resort in Crimea that proves to be a favourite of the wealthy and fashionable. It was made known by the Russian artist and writer Maximilian Voloshin, who would invite prominent individuals from different fields of expertise to his home here.
The resort has long been known for its naturist beach, but constant development in the area and the influx of elite resorts have driven nudists further off the beach. One is more likely to associate Koktebel now with its cognacs and wines than with nudism.
Koktebel has public and private beaches with discos and bars nearby that come alive at night. A paved walkway lined with kiosks, cafés, and restaurants is a great place to try Tatar cuisine, though Ukrainian and Russian food are also available. There is also a small market selling homemade goods.
Koktebel hosts an annual jazz festival in mid-September.
Alushta
Alushta is a Black Sea resort town dating back to the 6th century. It is one of the largest and most popular holiday getaways in Ukraine, with a particularly wonderful climate between June and October. Ukrainian and Russian tourists love its clean air and flock to its beaches.
The town has many restaurants, cafés and discotheques. There are opportunities for windsurfing, sailing, biking, horseback riding, and hiking. The Demerdzhi Mountain is shared by Alushta and Simferopol, another popular resort, and there are great trails here, which pass through interesting rock formations.
The town has the remains of a Genoese fortress and a Byzantine tower.
Alupka
The small resort town of Alupka is situated southwest of Yalta. It has a number of Soviet-era sanatoriums, resort hotels, and parks along the Black Sea coast. In the town centre you can find discos, cafés, and a movie theatre.
One famous attraction is Vorontsov Palace in Alupka Park, which combines Scottish and Neo-Moorish designs.
West of Alupka is a nice and quiet resort, Simeiz, which also has several sanatoriums.
---