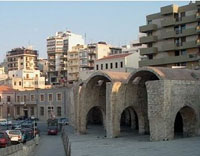 The island of Crete is both historic and famed in myth—it is the birthplace of the god Zeus and the land of the Minotaur, and it is the seat of the ancient Minoan civilization. Its most significant sites include the ruins of the ancient cities of Knossos, Phaistos and Gortys, but Crete's architectural treasures also include more recent churches and monasteries, and even Venetian castles.

It is also a top tourist destination, with many beaches, some crowded in peak season, others often deserted and pristine. Depending on the area, Crete can offer either serenity or excitement. It has both secluded villages and big tourist resorts.
Cretan summers are hot, dry affairs, while winters are mild, and marked by frequent rain. The scenery is wild and romantic, with many mountains and gorges. It also has many fascinating caves. Citrus fruits and olives grow well on this temperate island. Crete is also known for its sweet wine and for raki, a grape spirit.
The capital, Heraklio, is one of Greece's biggest towns. There are three other towns: Lasithi, Hania and Rethymno, each the capital of a prefecture.
Crete's coastal villages are quite charming. Many colourful traditions are kept alive in the smaller communities, but the large port towns are on the rise and becoming more modernized.
Chania
Backed by the immense Madares Mountains, Chania is a picturesque prefecture that gets more rain than any other part of Crete. Its fertile farmlands are interspersed with dramatic gorges. The vast Cretan Sea lies to its north.
Chania City
Chania City, the capital, is on the north coast. Some say Chania City is Greece's most beautiful city. It is one of Crete's oldest towns, and much traditional architecture has been preserved. It has a wonderful historic centre, with many buildings from the Venetian and Turkish eras. Celebrated landmarks include the Venetian harbour lighthouse, and the Byzantine fortress Kastelli. Chania also has splendid beaches.
Chania City has a new town, as well as the famous old one. The centre of Chania's new town has an organized layout and is easy to navigate, but its suburbs are rather confusing.
The old town, surrounded by Venetian walls, has narrow winding streets, with many restaurants, shops and old houses. The Turkish area on Kastelli Hill was unfortunately mostly destroyed during World War II and never restored. The main road, Kanevaro Street, is lined with grand mansions.
Apokoronas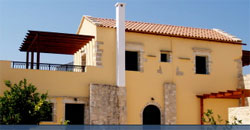 Many people working in Chania City live in Apokoronas. The district extends to the foothills of the White Mountains and encompasses incredibly green fertile plains, rolling hills, and Crete's only freshwater lake, Lake Kournas. The Kiliaris River runs through the area.
An important archeological site is the 7th century city of Aptera, on a hill overlooking the Bay of Souda. Excavation has not been completed.
The towns along the coast have big beach resorts. Kalives, a village on the Bay of Souda, has drawn many tourists lately due to its lovely sandy beach. Despite tourism, however, Kalives is still unspoilt, and maintains a traditional character.
Towards the east, Almirida, with its shallow waters and sandy beach, is attractive to families with young children. But it has become more touristy recently. From the little village of Plaka above it, can be seen great views of the Bay of Souda and the White Mountains.
Georgioupoli was a quiet fishing village till recently. Now many hotels are rising along its long sandy beach. Nearby is Lake Kournas, Crete's only freshwater lake.
Vamos is a preserved and restored old town. There are some inns here housed in old buildings. A group of villagers began making the effort to preserve its traditional way of life in 1995.
Vrysses is a young village, dating back only to 1925. It is a quiet and pleasantly cool summer retreat, with rivers flowing through it, and immense plane trees providing plenty of shade. Its specialty is yoghurt.
The traditional villages are lovely, but their character is changing with all homes built for the many foreign buyers. Gavalohori and Megala Horafia are especially favoured by foreign buyers, but the houses being built there are often of inferior quality.
Rethymno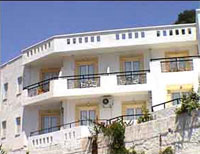 Rethymno has many beaches and delightful resorts. Preveli is one of the most popular, with its sparkling green waters. There is plenty of enjoyable nightlife in its capital, Rethymno, and in the beach resorts of Plakias and Agia Galini, including traditional Greek tavernas and modern bars.

Rethymno is also full of historic buildings and ruins. Also within this prefecture are many charming villages dotting the mountainside, including the lovely Anogia.
Lassithi
The prefecture of Lassithi has glorious Mediterranean beaches. Especially fascinating is Vai Beach, with a forest of palm trees, golden sands and clear blue waters. The islet of Hrissi has excellent white sand beaches as well.
Spread out on a green plateau, Lassithi has many small towns and seaside resorts. In its mountains are pretty little villages where traditional Cretan ways are maintained. An especially attractive town is Tzermiado.
The seaside resorts of Sitia, Elounda, Neapolis, Lerapetra and Makrigialos as well as the prefectural capital Agios Nikolaos offer varied nightlife. Many of the bars are modern and the night clubs often stay open till dawn.
Agios Nikolaos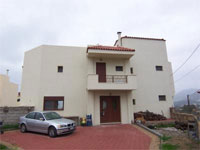 Rethymno's capital Agios Nikolaos is spread out on three hills. It has many small sandy beaches and a little lagoon called Lake Voulismeni, in an attractive setting of red rocks and trees. There is a little park by the lagoon, with cafés and restaurants and an amphitheatre where cultural presentations are staged, and an archaeological museum. There are shops selling replicas of archaeological finds. Lato pros Kamara, an ancient city, was on this site.
Agios Nikolaos is a rather touristy place with lots of discos and bars, and several sports facilities. In summer, films are shown at an outdoor cinema.
Elounda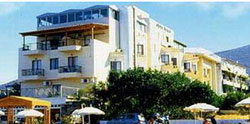 On the southern coast of the gulf of the same name, Elounda draws an elite crowd and has upscale hotels. It is both a fishing hamlet with a population of about 2,200, and a tourist haven. It is a serene place with shady beaches and sparkling blue waters. From nearby mountain villages can be seen breathtaking views.
Heraklion
The Heraklion prefecture is known for its great beauty, and is the seat of Crete's capital and economic centre, Heraklion City.  Heraklion's beaches are lovely, especially Matala, which is sandy and has blue-green waters. There are charming villages in Heraklion's hills and mountains, and on the coast. There are also fascinating archeological sites.
---