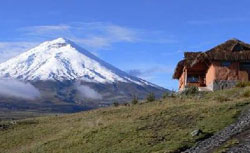 The province of Cotopaxi is named after its alluring snow-capped volcano, the tallest active volcano in the world. The star attraction of the most visited national park in Ecuador attracts serious mountaineers and is greatly admired for its height and majestic beauty. Because of its active state, though, the Mount Cotopaxi is also a constant threat to the locals.

Cotopaxi National Park also has beautiful lakes such as Limpianpungo, which is surrounded by a pine tree forest that is the home of llamas, páramo rabbits, wild horses, and white-tailed deer. El Boliche Forest, the park's recreational area, has campsites for those who want to spend a few days exploring the park's animal reserves and stretches of lush vegetation.
Latacunga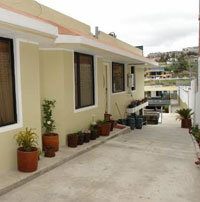 The town of Latacunga has been destroyed three times by Mount Cotopaxi. Yet many of its Spanish-era buildings have been spared, and remain against the dusty landscape and the colourful newer houses that line the narrow cobblestone streets.

One of Latacunga's sources of pride is the San Juan Bautista Tilipulo Monastery, whose sacred and serene atmosphere, romantic Byzantine interiors, and art from what is known as the Quito School make it a must-see for those who know how to appreciate art, architecture, and hallowed spaces. Not far from the monastery, Latacunga locals weave beautiful fabrics and blankets made of twisted cabuya fiber. A trip to the La Avelina, Tilipulito, La Cienaga, and Isinche Grande haciendas gives tourists a vivid idea of the province's wondrous past. To complete the cultural tour of Latacunga, head to the Casa de la Cultura and Casa de los Marquesses de Miraflores, which exhibits archaeological artefacts and colonial art.
The well-preserved gardens of Vicente León Park, Ignacio Flores Park, San Francisco Park, and the Plaza de Santo Domingo make strolling around Latacunga quite pleasant. The pumice stone façade of the Town Hall, the old hospital Casa Cuna, and the monument of the Virgin of la Merced are other sites of interest. Latacunga's restaurants serve Ecuadorian, Chinese, American, and Italian specialties. Latacunga's night scene is not as spectacular as that of other Andean capital cities, but it does have a few bars that play varied music.
Saquisili
Saquisili is famous for the huge traditional market that occupies eight of its plazas. Whereas the Otovalo market is more intended for tourist shopping, Saquisili's Thursday market is preferred by highland locals looking for produce, meat, livestock, herbal remedies, kitchenware, and electronics. Saquisli is also known for its colourful Corpus Christi celebrations.
Salcedo
The canton of Salcedo has a strong agricultural and dairy industry. Fruits and ice cream are its most popular products. It has nicely decorated traditional restaurants and rustic inns that have a very inviting and welcoming atmosphere. The town also has private visitor accommodations with amenities such as swimming pools and playgrounds.
---