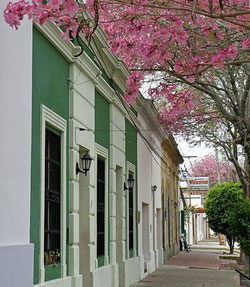 As with most northern provinces, Corrientes has quite an underdeveloped economy. It is mostly agricultural, with main production centred on citrus fruits, cotton, tea, rice, tobacco, and the well-known South American crop of yerba mate. Eco-tourists and bird-watching enthusiasts come to the province to visit the Esteros del Ibera, wetlands that are the largest protected area in Argentina, and for golden dorado fishing.

Corrientes is primarily famous for holding one of the biggest carnival celebrations in Argentina—a series of festivities held in different cities from January to March.
Corrientes City
Corrientes City is the capital and economic centre of the province of Corrientes. It is also the centre of its carnival celebrations, and as such a lot of its businesses have to do with the Carnaval—there are samba schools, dressmakers, musicians here. The Carnaval in Corrientes draws tens of thousands of visitors to the city.
The houses in Corrientes display a mix of styles—colonial and modern amid orange and jacaranda trees.
---