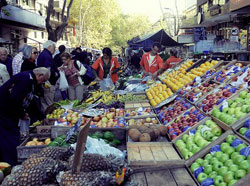 Those desiring peace and privacy could find the home of their dreams in the middle-class neighborhood of Cordón.

Cordón is characterized by Spanish colonial houses along tree-lined streets. There are also a number of antique shops in the area.


Tristán Nervaja Street
Tristán Nervaja Street is home to Montevideo's Sunday flea market, with vendors selling clothes, antiques and other items at very cheap prices. It is an interesting place to visit, but the downside is the number of pickpockets who prey upon unsuspecting tourists.
---