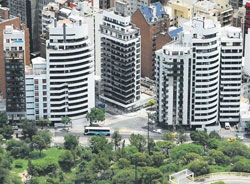 Córdoba is in the centre of the country, and its capital, Córdoba, is the second largest city in Argentina. Together with its neighbouring provinces Santa Fe and Entre Ríos, Córdoba forms the economic-political association known as the Centre Region.

The province has a strong economy due to its being a prime tourist destination. Audiophiles from around the country and the world come to Cordobá in droves to enjoy the annual Cosquín Folk Music, Jesús María Folk, and Taming Festivals.
Aside from its festive atmosphere, Córdoba also has important architectural and cultural landmarks: the Museo Provincial Marque de Sobremonte, the Fray Jose Antonio de San Alberto Museum, the 17th century El Cabildo, or town hall, the Romanesque Iglesia Cathedral and the Jesuit Iglesia de la Compania.
Córdoba has generally mild weather, small rivers and low green hills.
Córdoba City
If a city can be said to have a flavour, Córdoba's might be the bitter tang of the fernet con cola, a local drink that mixes cola with fernet, a bitter liqueur. And its sound must be the catchy beat of the cuarteto, pop music that originated in Córdoba but now popular throughout the country. At night, Córdoba's clubs come alive with
Situated near the geographic centre of Argentina, the city of Córdoba is a large urban area at the foot of the Sierras Chicas range near the Suquía River. It is packed with modern high-rises, but has retained a lot of the historic architecture of its buildings and streets. One of the most famous preserved areas in the city is the Jesuit Block, which includes a church and a university founded by the Jesuits in the 17th century.
Outside the city, lots of outdoors activites can be enjoyed in the nearby mountaints, including hiking, mountain biking and paragliding, and fishing for trout in the dams.
---