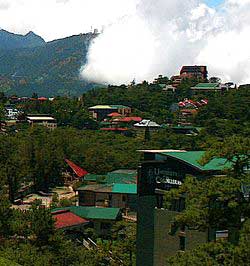 The Cordillera Administrative Region is home to many indigenous tribes. They have been able to keep their traditional way of life intact, to some degree. Many city-dwellers or "lowlanders" enjoy visiting this mountainous area, as it is relatively cool.

The mountains are rich in minerals but mining is mainly confined to Benguet province. Aside from mining, land is used for agriculture, and fruits and vegetables thriving in cooler in weather are cultivated here, such as strawberries.

The region's famous destinations are Baguio City, Banaue, and Sagada. Of these, Baguio City is the most developed and cosmopolitan, with several corporations and universities. Its main attraction is its cooler weather, which allows the growth of the pine trees that set the city apart from the rest of the Philippines. Although it has lately become very modern and even smoggy, Baguio City still attracts many people seeking a peaceful retreat amid pine forests.
From Baguio, you can visit Balatoc Mines in Benguet, which offers mine tours.
Banaue is most famous for its impressive rice terraces, carved out of mountain hillsides 2,000 years ago and still in use today. They have been designated a UNESCO World Heritage Site. However, due to unregulated development in Banaue, buildings have been constructed haphazardly and the town is a bit of a mess. The further away from the town you go, the more beautiful the scenery.
The artists' retreat of Sagada in the appropriately-named Mountain Province is also famous for its hanging coffins—mummified remains in coffins hanging from the sides of the mountains. Sagada's caves have underground streams with stalagmite and stalagtite rock formations, and is a popular place for camping and trekking.
---