Mataderos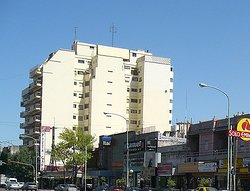 This neighbourhood was known for years as the meeting point between the city and the countryside. Its name is an indication of its rural commercial leanings ("mataderos" means "slaughterhouse"), and its livestock market has made it the main stop for gauchos (traditional Argentine cowboys) within the city.

Mataderos is known for its vibrant commercial area along Eva Peron Avenue, with its Sunday Mataderos Fair drawing crowds interested in all things gaucho. The neighbourhood is also famous for its lively block parties held at the old marketplace on Avenida de los Corrales, with tango and milonga dance performances regaling the audiences.
Parque Avellaneda
The verdant parks and woods of Parque Avellaneda make it an appealing place to live. It is a quiet area with lots of trees along the streets, nondescript homes and apartment buildings, and very little traffic.
Liniers
Liniers is an important transport hub, its train and bus systems connecting Buenos Aires City with the conuration of the Greater Buenos Aires Area around it. The neighbourhood grew around the train station and is defined by small, narrow streets and small homes. Liniers also has a good commercial area.
---